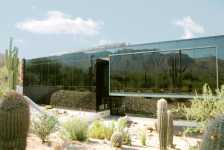 Cushman & Wakefield | Picor of Tucson invites offers from prospective buyers in an open bid process for the class-A landmark 82,942-square-foot office facility at 3300 East Sunrise Drive in Tucson. Before the Muscular Dystrophy Association (MDA) announced plans to relocate its Tucson headquarters to Chicago, the firm had been retained to assist the sale of the property and its larger office management plan in Tucson and Chicago.
The Tucson facility has 7.14 acres that deliver some of the most scenic views to be found anyplace. With Sonoran Desert and City views from the base of the Catalinas, there are breathtaking panoramic mountain vistas from the site. The property was gifted by Pima County in 1990 to MDA when it first moved its national headquarter to Tucson from New York, not so much for the job creation it brought, but more for the prestige of having such an esteemed non-profit organization headquartered here.
According to Crain's Chicago Business, MDA revenue for 2012 was $152 million, down from $157 million in 2011 and $171 million in 2010.
The relocation is intended to strengthen operational efficiency and effectiveness, engage new corporate partners and individual donors, and position it to better inform and influence policymakers. These changes will give the organization opportunities to enhance both income and mission outreach, MDA said in a release.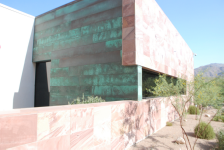 The main 67,020-square-foot, 2–story, curvilinear design building was completed in 1992, and a 15,922-square-foot LEED Silver building was added in 2010, creating a truly unique corporate office environment. The property boasts striking executive and private offices around a central cubical office area, conference rooms, auditorium, atrium entrance and gathering areas, complete with media studio, mail and print rooms, kitchen and break rooms, exercise and locker rooms, loading dock and other utility functions. It is very beautiful, very prestigious and move-in ready for most any corporate office.
When we caught up with Rick Kleiner, Principal at C&W Picor, we were told they are hopeful to find a user for the property, but it does lend itself to multiple tenants easily, with the two separate buildings and other possible reconfigurations of the main building. "Although everyone is saddened to lose MDA, this could actually be a good thing for Pima County," said Kleiner, "a private company would bring some real estate taxes to the County coffers; MDA was tax exempt as a non-profit."
A release states,  a majority of the current 110 national staff positions will remain in Tucson.  Kleiner told us he would be relocating about 75 MDA employees sometime early 2014 for the MDA Operations Center in Tucson. There will be no layoffs as part of the move, a MDA spokeswoman said. MDA employs about 1,000 people nationwide and will employ eventually 30-40 in the Chicago office.
The announcement drew praise from Mayor Rahm Emanuel. "Chicago is a national leader in health care and medical research and is the perfect place for MDA to continue its great work in finding treatments and cures for neuromuscular diseases," the mayor said in an announcement. "We look forward to working with MDA and supporting its growth here."
Kleiner is already getting interest on the Tucson facility and expects it will attract many buyers because of its uniqueness and location.
The timeframe for the open bid process follows: Tours to be given from October 7-18 (or as arranged); offers due by October 31 for a Nov-Dec due diligence to allow time for a Jan 15th closing. Proceeds from the sale of the facility will be used to strengthen MDA's financial position and support funding of its mission.
For more information, many more photos and terms and conditions of sale visit www.3300EastSunrise.com or contact Rick Kleiner at (520) 546-2745.