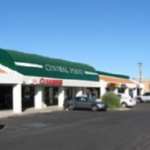 Central Point Business Plaza at 3955 – 3961 E Speedway Blvd. in Tucson sold for $4 million ($72 PSF) to a California investor group, Central Point Tucson, LLC, an affiliate of Castlerock Investment Group of Valencia, CA (Randy Kirshner, managing member). The 55,339 sq. ft. flex / industrial / retail property at Alvernon and Speedway was built in 1982 on 4.7 acres.
The seller, Central Point Business Plaza, LP of Tucson (Rodger Ford, president) sold the property 97% occupied, with such tenants such as Tucson Window and Doors, Re-Bath of Tucson, Regal Cleaners, ARC Documents, SW Medical Solutions, Life Net, and DIY Cosmetics. The property sold well-maintained and in good condition.
American Equity Investment Life Insurance financed the purchase for the investor.
This is not Castlerock's first acquisition in the Tucson market, it also owns the 163,000 sq. ft. Britannia Business Center, near the Tucson Airport, since 2004. Kirshner told us that Castlerock Investment Group is looking for other properties of this type in Tucson. "The company likes business park investments but is open to other investment properties for their portfolio," according to Kirshner.
Rob Tomlinson, Greg Furrier and Brandon Rodgers of Cushman & Wakefield / Picor in Tucson have been retained for leasing at the property.
Michael Sandahl and Wyatt Campbell, both with CBRE in Tucson represented the seller, Central Point Business Plaza, LP in the transaction. Buyer, a licensed real estate broker in California was self-represented.
Kirshner should be contacted at (818) 344-3225. Sandahl can be reached at (520) 323-5115 and Campbell is at (520) 323-5173. For leasing information, Picor  should be contacted at (520) 748-7100.
Login for additional information.