By Austen Bundy | Cronkite News PHOENIX, Arizona – Education funding and the looming threat of water shortages were among the key issues Gov. Doug Ducey emphasized in his State of the State address Monday in Phoenix and Tuesday in Tucson. The Arizona Republican opened his speech in House chambers at...
TUCSON, ARIZONA -- Cushman & Wakefield | PICOR is pleased to announce Dave Hammack and Aaron LaPrise have achieved shareholder status.  The two high-performing commercial real estate brokerage professionals are both Tucson natives active in the International Council of Shopping Centers (ICSC) and join the existing 14 C&W| PICOR...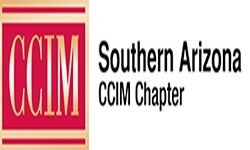 TUCSON, Arizona – The iconic DeConcini Building at 2525 E Broadway in Tucson sold for $4.725 million ($147 PSF). The 32,160-square-foot building located on 2.08 acres at the northeast corner of Broadway and Tucson Boulevards was 100% occupied at time of sale and purchased by Broadway Executive Plaza (Robert Assenmacher,...
GLENDALE, Arizona – Situated at 6901 West Glendale Avenue, with Glendale Avenue frontage, this approximate one-acre land parcel sold for $350,000, or $8.09 per Square Foot. Proximity to US 60/Grand Avenue, the property has easy access to major retailers, parks, schools, and Downtown Glendale. The City of Glendale is...
TUCSON, ARIZ. – The Tucson office of engineering consulting firm Terracon presented a $5,000 check from its foundation to the Southern Arizona Research, Science, and Engineering Foundation (SARSEF). The Terracon Foundation Board selected SARSEF as its grant recipient. Terracon's Tucson Office Manager Derek Koller submitted the nomination. SARSEF is a 501(c)(3)...
The following commercial leases were reported to the Real Estate Daily News for the Tucson Lease Report from January 7-11, 2019. OFFICE – 1636 N SWAN ROAD, TUCSON Congresswoman Ann Kirkpatrick leased a 2,283-square-foot office suite located at 1636 North Swan Road from K Nardelli Building, LLC. Ian Stuart and Bruce Suppes with CBRE's Tucson...
TUCSON, ARIZONA -- Vermeer Sales Southwest, Inc. leased 1790 West Sahuaro Drive in Tucson, a 7,853-square- foot industrial building with approximately 1.27 acres from South Central Properties of Texas, Inc. Vermeer Southwest has had a continuous presence in the southwest United States serving Arizona, New Mexico, and greater Las Vegas since...
Scottsdale Developer Creating High-End Storage on Former Macaroni Grill Site Scottsdale, Arizona – Scottsdale-based 1784 Capital Holdings, LLC, has broken ground on its Gold Dust Self Storage project at 7245 E. Gold Dust Ave. The former Macaroni Grill location will be home to a high-end self-storage facility that is scheduled...
PHOENIX, ARIZ. – Sharon Harper, whose development expertise and leadership have made an indelible mark on the Valley's commercial real estate and business communities, will be honored with the NAIOP Arizona Award of Excellence. Harper, President, CEO, and co-founder of The Plaza Companies, is the first woman to win NAIOP Arizona's Award of Excellence. She will be presented the award at the 2018 Best of NAIOP on March 28 at the Arizona...
Phoenix, Arizona – ABI Multifamily, the Western US' leading multifamily brokerage and advisory services firm, is pleased to announce the Company's continued Tucson Regional Office expansion with the addition of Desiree Palmer as Vice President. John Kobierowski, Senior Managing Partner, states, "We are delighted to have Desiree join the ABI...
Oro Valley, Arizona -- Land Advisors Organization (LAO) Closed on $7.721 million in residential land deals in northwest Tucson since the start of 2019. Pulte Home Company plans to plat for development 45 acres of land in Oro Valley at Rancho Vistoso. The land drew a sale price of $4.9...
Former Country Inn & Suites Renovated as Senior Assisted Living and Memory Care Phoenix,  Arizona – Deer Valley Senior Living has been completed at 20221 N. 29th Ave.  The former Country Inn & Suites has been redeveloped as an upscale senior assisted living and memory care community. Bruckal Development Corporation of...
TUCSON, ARIZONA -- O'Reilly Auto Enterprises, LLC purchased a 42,154-square-foot lot near the southeast corner of Ajo Way and Kinney Road.  The seller was SEC Ajo & Kinney LLC, an affiliate of Glenwood Development of Mesa. The land sold for $750,000 ($17.79 PSF) and will be used to construct a 6,300-square-foot...
PHOENIX, ARIZONA – NAI Horizon represented the seller in the 1031 Exchange investment sale of an office building at 10240 W. Bell Rd., in Sun City, Arizona. NAI Horizon Vice President Tom Bean, CCIM, and Associate Stan Matzinger, represented 10240 Bell Road Associates, LCC, a Washington limited liability company of...
TUCSON, ARIZONA -- After a 17-year career with the University of Arizona Tech Park, Molly Gilbert joined Cushman & Wakefield | PICOR specializing in the sale and lease of office properties in Tucson. While at the Tech Park, she led many initiatives, including Community Engagement efforts, managing community, government,...
STAG Industrial Acquires 129,047 SF Premier Industrial Building PHOENIX, Arizona – On behalf of Dallas-based Colony Industrial, Cushman & Wakefield announced the firm facilitated the sale of Palo Verde Industrial, a 129,047-square-foot building on 7.32 acres in Tucson, Arizona. Boston-based STAG Industrial, purchased the asset for $10.025 million ($77.68 PSF). Executive...