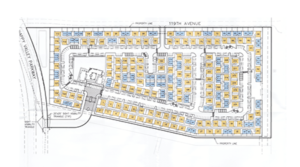 Christopher Todd Communities Pays Nearly $4.1 Million for Land
Phoenix, Arizona –  Christopher Todd Communities has purchased 20 acres of land at Happy Valley Rd. and Vistancia Blvd. in Peoria.  The company paid $4,094,385 for the site, which will be developed into single-family rental homes.
"Christopher Todd Communities looks to further its success in the rental housing market," says John Finnegan, senior vice president with Colliers International in Greater Phoenix. "This site is a great complement to their Surprise site. The demographics, transportation corridors and housing values provide a perfect setting for this rental product. The seller has an additional 23 acres immediately west of this site, which is currently in sale negotiations that would result in a project that complements the Christopher Todd development."
Finnegan, Chaz Smith and Ramey Peru of Colliers International in Greater Phoenix handled the land sale.  Scottsdale Investment Management AZ LLC was the seller. Christopher Todd Vistancia LLC was the purchaser.
Christopher Todd Communities is a new Arizona-based real estate development company with a unique niche in horizontal multi-family communities.  Christopher Todd Communities creates technology-forward, highly-amenitized, single-family home rental neighborhoods that nurture a sense of belonging.
Hancock Builders (Greg Hancock, Kelly Ward) will build 224 rental homes at the site.  The property will feature 92 one-bedroom units with 640 square feet each and 132 two-bedroom homes with approximately 997 square feet of space.  The community will offer a resort style pool area and a state of the art fitness center.  The company plans to begin construction during second quarter of this year.  Hancock Builders is the exclusive builder for Christopher Todd Communities, and has successfully completed 100 units and currently has another 15 projects in the pipeline for development.