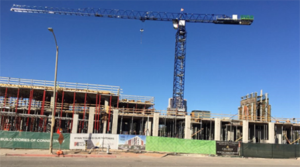 An audit report commissioned by Arizona's Auditor General called Rio Nuevo's accomplishments during the past three years "truly exceptional" in its 2019 audit of the District. According to the report, which was released Friday, Nov. 29, 2019:
"There has been continued improvement in the performance of the Rio Nuevo District through Fiscal Year 2019. In fact, the accomplishments of the District in the latest performance audit period are truly exceptional as a number of actions taken by the District have allowed for major projects to advance in the District and have also improved the long term outlook for the Tucson Convention Center."
The full audit can be viewed here: https://www.azauditor.gov/sites/default/files/Rio_Nuevo_Perf_Audit_2019.pdf
Auditors also concluded that even with Rio Nuevo's planned $65 million in improvements and upgrades to the Tucson Convention Center, additional work on the facility would make it more competitive with other cities in the 21st century.
"Rio Nuevo is one of the most effective tax increment finance programs we have analyzed, nationally," said Charles Johnson, President of Johnson Consulting and one of the authors of the audit.
Rio Nuevo Chairman Fletcher McCusker was pleased with the report and said everyone involved with the Tucson Convention Center is excited about the future of the TCC.
"The State's highest audit authority has confirmed the value, economic development and organizational excellence we strive for at Rio Nuevo," McCusker said. "They have also issued a challenge to us, the City of Tucson, Pima County and the State to raise an additional $100 million to make the Tucson Convention Center a state-of-the-art convention center.
"We are up for the challenge."
Highlights of the audit:
For every dollar Rio Nuevo has invested, the private sector has spent $6, creating more than $563 million in Downtown projects in the past three years.
The auditors challenged the District to be less "conservative," create a five-year strategic plan and strive for an additional $100 million to invest primarily in the Tucson Convention Center.
The District's improved monitoring of the tax revenue collections within the District has resulted in increased tax revenues during the performance audit period.
The audit states that "Members of the District Board have taken the findings of the previous performance audits seriously. The District has stabilized organizationally and has fully directed its energy and resources toward the fulfillment of its mission .