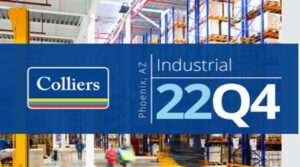 Greater Phoenix Also Sets Record for Most New Inventory Completed
PHOENIX, March 14, 2023 – The Greater Phoenix industrial market set multiple records in 2022, including total net absorption and amount of new square footage added to inventory, according to a report from Colliers in Arizona. The metro area posted 27.2 million square feet of net absorption during the year, exceeding the 2021 historically large total by more than three million square feet.  A total of 26.2 million square feet of new projects were delivered during 2022, including 8.1 million square feet completed in fourth quarter.
Fourth quarter marked the 11th consecutive quarter of industrial net absorption exceeding one million square feet.  It was the seventh quarter in the past two years with net absorption surpassing five million square feet.  Fourth quarter net absorption totaled 5.6 million square feet, bringing the yearly total to 27.2 million.  This is a 12.7 percent increase from 2021.  During 2022, 28 new direct leases larger than 200,000 square feet were signed in the city, eight of which were signed during fourth quarter and constituted 28.5 percent of all 2022 leasing.  This net absorption in the fourth quarter was a 60 percent increase from the third quarter.  Tenant demand for new construction has been heated, demonstrated by the fact that only 17.1 percent of the 26.2 million square feet delivered in 2022 are still available for lease.
The largest fourth quarter lease involved third-party logistics company Logistics Plus committing to 1.1 million square feet at Sarival Logistics Center.  The second largest lease of the quarter was a commitment for 763,410 square feet at GO 99 by China-based solar manufacturer JA Solar.  That company plans to hire more than 600 employees at the facility by the end of 2023.
Despite the addition of a record-breaking 26.2 million square feet completed, the metro area's industrial vacancy posted a record year-end low vacancy of just 3.0 percent. Greater Phoenix is defying the national slowdown in demand for industrial space, demonstrating an increase in tenant demand.  Greater Phoenix Economic Council has reported 32 prospective tenants in the market that are looking for over 200,000 square feet, which is an increase of more than 60 percent compared to the third quarter.  Only 11 buildings exist that can accommodate tenants of this size and seven of those were completed in 2022. The Southwest submarket posted the largest decrease in vacancy for the fourth consecutive quarter, falling to 1.4 percent.  The Northwest submarket cluster had the largest increase in vacancy quarter-over-quarter to finish at 5.1 percent.
Tenant competition for space has pushed industrial rental rates up to record levels, increasing 33.4 percent year-over-year and 10.2 percent quarter-over-quarter.  The average asking industrial rate reached $0.94 per square foot at year-end 2022.  Since 2019, rental rates have risen an annual average of 10.3 percent.  Rates have risen more than 45.3 percent since the fourth quarter of 2020.  The year-end report indicates every submarket in Metro Phoenix has experienced rental rate increases quarter-over-quarter and year-over-year.
Every quarter since the beginning of the pandemic, Metro Phoenix has increased its industrial construction level.  At the end of the fourth quarter, 43.7 million square feet of new space was underway.  This is a 44.6 percent increase compared to year-end 2021 and an increase of 6.8 percent from third quarter 2022.  More than 22 percent of the space under construction is already pre-leased. Approximately 70.1 percent of the construction is being developed within the Northwest and Southwest submarket clusters.  Phoenix now ranks fourth in the nation for amount of industrial space underway, behind Dallas/Fort Worth, Atlanta and Greater Los Angeles.  Since year-end 2020, the market has delivered more than 52 million square feet, which increased the total inventory by 15.4 percent.
Increased interest rates have contributed to a drastic slowdown in investment sales during fourth quarter 2022.  This quarter posted the lowest industrial sales volume since third quarter of 2020.  Despite the slowdown, record strong demand and rising rental rates created an environment for a 7.1 percent rise in the median price per square foot compared to fourth quarter 2021.  Total sales volume in 2022 decreased 35.4 percent compared to 2021, but the median price per square foot increased 21.8 percent to $185. The largest transaction of fourth quarter was a four-building portfolio in Central Phoenix called Central Logistic Center totaling 408,668 square feet.  The portfolio was sold by Via West Group to Westcore Properties for $93.5 million.
The outlook for Greater Phoenix industrial activity remains bullish.  TSMC announced in December that it is increasing its investment in the market from $12 billion to $40 billion.  This is the largest foreign direct investment in U.S. history.  The activity will ripple throughout the market as more than 40 new suppliers have shown interest in relocating since that December announcement.