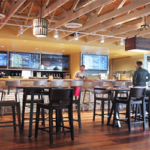 Tucson Foodie  is reporting that Casa Video has added a new opportunity for patrons – a craft beer bar.
For more than 30 years, Casa Video, located at 2905 East Speedway, has provided Tucson residents popular, classic, foreign, and obscure films. Now, the independent film rental and sales shop will offer a new element to its patrons — craft beer.
Beginning December 26, Casa Video will open its doors to the Casa Film Bar, which encompasses nearly 1,000 square feet of space within the video store. The bar will house more than 300 craft beer bottle and can selections and 20 draft taps.
The bar will feature both on and off-site sales pricing. Patrons can purchase any amount of beer to-go, whether in bottle or cans or in growlers and "crowlers," which are 32-ounce sealable aluminum cans provided by the bar. Customers who wish to drink at the bar or in the bar area can enjoy 13 to 16-ounce drafts or bottles and cans for a $1.50 capage fee.
Given the skyrocketing craft beer industry and the video store's loyal patronage, Casa Video owners expect to provide another opportunity for customers.
"Of course we want to please our current customer base but we also want to attract anyone who loves film and craft beer," said Casa Film Bar co-owner Kyle Schwab. "It seems in recent years the video industry has been given a lot of bad publicity, when in all honesty it's the best way to be able to watch almost any film you may want to."
Continue reading on tucsonfoodie.com