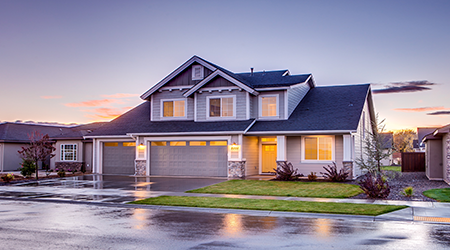 By: Carol Evenson
When you decided to purchase a home, you might have made one of the biggest investments that you have ever made or that you will ever make in your life. Because of this, it is probably important to you to maintain the value of your home if you can. If you choose to put your home on the market in the future, you will probably want to get as much for it as you can. In the meantime, you may want to build equity in your home for other purposes. No matter why you might be focused on raising your property's value, you could be wondering which steps you can take to do it. These are three effective ways that can help you raise your property values, so consider getting started with them right away. With a little time, effort and money, you can make your home more valuable than ever.
Make Energy-Efficient Improvements
Nowadays, many homeowners are serious about reducing the amount of energy that they use in their day-to-day lives. After all, not only can this help homeowners save money, but it's a positive step that can be taken for the environment, too. Making energy-efficient improvements in your home can be a good way to save money and help the environment in your day-to-day life, and it can help you make your home more valuable and appealing if you put it on the market later, too. These are some of the energy-efficient improvements that you might want to think about making:
Install solar panels. For example, in Arizona solar panels help you make use of the sun's rays to power parts of your home. This can help you use a more earth-friendly forms of energy and can save you a lot of money, too.
Insulate your home. Adding insulation will help you keep your home cozy during the winter and cool during the summer.
Swap out old appliances and equipment with newer, more energy-efficient models.
Install new roofing and windows that are more energy efficient.
Focus on Curb Appeal
The appearance of your home from the curb matters. You probably want your home to look nice so that you and your family members can be proud of it, and you might realize that your home's curb appeal can impact your own property values and property values around your entire neighborhood. Sprucing up your yard might not cost as much or take as much work as you think, and it can make a huge difference. Focusing on planting nice, green grass or putting in desert scaping is one start; then, you can add plants and other touches around your yard to make it look its best.
Improve Your Kitchen and Bathrooms
Making improvements to just about any area of the home can help you increase its value, but some improvements are worth more than others. If you'd like to get the most bang for your buck when it comes to improving your home's value, you may want to get started with your kitchen and bathrooms. These are two of the rooms that people spend the most time looking at when looking for a home, and they're two of the areas of the home that you can enjoy the most if they are renovated. You don't have to spend a ton of money on a renovation, but installing new countertops, plumbing fixtures and flooring in these rooms, for example, can help a lot.
These are just some of the many ways that you can focus on improving your property values. If you get started with some of these ideas, you can improve your home, make it more valuable and potentially save money now, too. You may also think of other improvements that can be made to your home after you get started with these ideas, too.