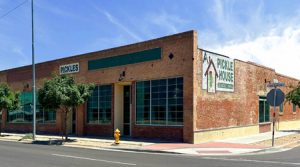 PHOENIX, ARIZONA (Sept. 25, 2023) – NAI Horizon represented the landlord in a transaction to help transform a historic building in Downtown Phoenix into a small business incubator and makerspace.
NAI Horizon Executive Vice President Jeffrey Garza Walker, MRED, MBA, represented Chicanos Por La Causa (CPLC) in the $247,000, long-term lease at the CPLC Pickle House Makerspace Business Incubator at 1401 E. Van Buren St., Building B, in Phoenix.
The tenant, Alfredo B. Lopez dba as Core Collective Fitness, will take 3,500 SF of the 15,500 SF building.
The business incubator provides a platform for entrepreneurs from disadvantaged backgrounds to succeed. The renovation project will transform the historic Arnold Pickle House into a small business incubator and makerspace. Built in the 1920s as a family-owned pickle factory, this site sat vacant for years until CPLC purchased it.
The adaptive reuse project will include a business incubator, high-tech tools and other resources for small businesses, all while retaining the nostalgia and imagery of the historic site.
"NAI Horizon is excited to be a purposeful partner in the redevelopment of an iconic location that will serve the community in fostering the growth of small businesses that are the lifeblood of the economy," Garza Walker said.
CPLC purchased the Pickle House in 2018 and renovated the building with grant funds from the state to foster more opportunities for small businesses.
Founded in 1969, CPLC provides services to people of all backgrounds while honoring its Mexican-American roots. It facilitates growth through five areas of impact: health and human services; housing; education; economic development; and advocacy.