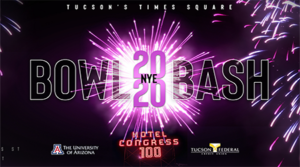 TUCSON, ARIZONA -- Well-known and respected community leader and real estate broker, Mark Irvin, SIOR, CCIM, of Mark Irvin Commercial Real Estate Services has a special invitation for you to join in this year's NOVA Home Loans' Arizona Bowl 2020 Bash on New Year's Eve. As a founder of the Bowl Game that was sanctioned in 2015, Irvin is extending this special invitation to the community.
The NOVA Home Loans' Arizona Bowl will be at Arizona Stadium in Tucson, and played between bowl-eligible teams from the Mountain West Conference and Sun Belt Conference. This year, the game will be on New Year's Eve at 2:30 pm for the football and includes fireworks and a huge party afterwards to ring in the new year. Being called the Bowl 2020 Bash it is expected to become a New Year's Eve tradition - Southern Arizona's Times Square.
This year's game will pit the Mountain West Conference Wyoming Cowboys against the Sun Belt Conferences Georgia State Panthers. Both teams are 7 - 5 and first-time participants in the AZBOWL.  By all accounts, it should be a great matchup.
Die-hard fans of the two schools selected will travel to Tucson to be a part of Tucson's Biggest Football Festival and New Year's Eve Bowl Bash. Last year's game brought nearly 34,000 fans to the stadium and generated upwards of $25M in economic impact for Southern Arizona. 14,000 of those fans in attendance were local heroes (active military, vets, first responders and teachers) who had their tickets underwritten by caring local businesses and individuals.
The Bowl Game shines a national spotlight on Tucson and Southern Arizona which helps tourism and economic development in the region. However, the most important reason for supporting the AZBOWL  is that 100% of the net proceeds go directly to local charities. The Bowl donated over $650,000 in 2018 and would love to sell out the stadium and donate far more in 2019.
"We plan to be sitting in the Loge Section with 300 of our favorite fans," Mark Irvin said.  "This is the covered area below the Sky Boxes with approximately 300 fans and 100 seats set aside for us. It would be great to have the commercial real estate community engaged."

The tickets are priced at $125 each and include food and non-alcoholic beverages (a cash bar is located in the Loge Section too so don't worry about getting your favorite beverage).
Irvin recommends that you secure your tickets now if you want to attend. Here is the link to get your tickets and sit with us in the Loge Section:   Tickets | Nova Home Loans Arizona Bowl - Tucson, AZ at Ticketmaster
Please consider purchasing tickets and attending this family-friendly event and/or underwriting tickets for local heroes to attend.  To purchase a sponsorship, please visit the bowl website: Home | NOVA Home Loans Arizona Bowl in Tucson
As the game has continued to grow year after year, the community support has grown with it!
Below are other exciting events around the AZBOWL that you won't want to miss!  Help spread the word to others!
DECEMBER 30TH 
3:00 pm - 8:00 pm
Downtown Pep Rally at Jacome Plaza presented by Rio Nuevo
Battle of the Bands, Cheerleaders, Pep speeches by University Presidents and Athletic Directors – FREE

DECEMBER 31ST
10:00 am – 1:30 pm
Desert Diamond Casino Tailgate Festival on the University of Arizona Mall
Food vendors, beverages, Car Show, live performances by Backroads and the Billy Shaw Jr Band, Charity Village, Kids Zone – FREE

2:15 pm
NOVA Home Loans Arizona Bowl Kickoff
A great football game followed by the Desert Diamond Fireworks Spectacular with fireworks being shot off the top of Arizona Stadium
Ticket required

 6:00 pm – 1:00 am
University of Arizona New Year's Eve Downtown Bowl Bash with Fireworks presented by Tucson Federal Credit Union
Live music, food trucks, beer trucks, ice skating, the world's largest pinata, a kids zone, a taco drop at midnight followed by fireworks off the top of the historic Hotel Congress. Located in Tucson's Times Square (Congress & 5th Streets in downtown Tucson). - FREE
In advance, thank you for your support! Looking forward to seeing everyone on December 31st - New Year's Eve, enjoying Tucson's Best Football Festival, the NOVA Home Loans Arizona Bowl and Tucson's Times Square 2020 Bash!