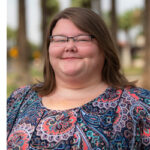 PHOENIX, ARIZ. (Jan. 20, 2023) — Carrie Kelly, Executive Director of the Arizona Association for Economic Development (AAED) has been appointed Chair of the International Economic Development Council (IEDC) Public Policy Advisory Committee.
Appointed Vice Chair was Bradley Comment, Senior Vice President, Strategic Initiatives, Right Place, in Michigan. Kelly and Comment were appointed by Jonas Peterson, Chairman of the IEDC Board.
The committee monitors and reviews the organization's legislative affairs and federal relations by establishing a list of key legislative issues to be monitored, recommending strategic and policy actions, and providing guidance on the content of the annual Economic Development Summit. Arizona is hosting the IEDC 2023 Leadership Summit Jan. 29-31 in Tucson.
"This is an opportunity for Arizona to further establish itself as a leader on federal economic development policy development and advocate for issues important to the state and its economic development endeavors," Kelly said. "I look forward to working with the committee members and the IEDC Board of Directors to create the best policy environment for our economic developers."
In the past year, AAED and IEDC played an important role in the passage of the CHIPS Act and advocated for the EDA Reauthorization, historic funding for federal economic development programs and infrastructure investments.
IEDC is a non-profit, non-partisan membership organization serving economic developers and economic development organizations. With more than 5,000 members, IEDC is the largest organization of its kind.