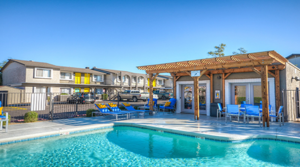 PHOENIX, ARIZONA — ABI Multifamily, the Western U.S.'s leading multifamily brokerage and advisory services firm, is pleased to announce the $16,780,000 / $121,594 per unit sale of the Seventeen 805 Apartments located in Phoenix, Arizona.  Built in 1984 and recently renovated in 2016/2017, the property is of wood frame/masonry construction with pitched composition shingle roofs.
The unit mix consists of a single one-bedroom / one-bath unit measuring 596-square-feet, (3) two-bedroom / one-bath units measuring 980-square-feet, and (134) two-bedroom / two-bath units ranging from 980- to 1,050-square-feet. Each unit is individually metered for electricity and has individual hot water heaters. Seventeen 805's apartment units are equipped with air conditioning / heating, balcony / patio, ceiling fans, large closets, hard surface type flooring, and eat-in kitchens with dishwasher, garbage disposal, range / oven, and refrigerator. Select units offer in-unit washer / dryer and/or private enclosed backyards. The community also provides its residents with two sparkling swimming pools, three newly renovated laundry facilities, fitness center, a barbeque / picnic / dog park area, and a children's playground. Among the property's recent capital improvements are fully renovated exterior and common areas, as well as, select interior renovations.
"Seventeen 805 is located near the SR-51 and the 32nd Street Redevelopment Corridor. The Seller, FPA Multifamily, did an amazing job in renovating the exterior, common areas and a majority of the interiors," states Rue Bax, Senior Managing Partner at ABI, and co-lead broker for the seller in this transaction along with Alon Shnitzer, Senior Managing Partner.  "The Buyers, Dalan and VM Management, are both experienced Arizona multifamily investors and were drawn to Seventeen 805's desirable unit mix, low density garden style living and strong overall economic fundamentals," states Alon Shnitzer.
The Buyer was a Joint Venture between New York-based Dalan Management and Arizona-based VM Management.  The partnership owns and manages real estate with a focus on improving and adding value to multifamily and commercial properties.  Dalan's portfolio includes residential properties in Manhattan, Brooklyn, Queens, the Bronx, Washington DC and Phoenix, Arizona with additional commercial holdings in Manhattan. VM's portfolio consists of multifamily assets in the greater Phoenix area.
The Seller, FPA Multifamily, LLC is a private equity real estate firm focused on the acquisition, renovation and management of both core plus and work force housing apartment communities.  Founded in 1985, FPA has owned over 100,000 apartment units valued at over $10.0 billion.  FPA is currently investing through its value-add focused FPA Apartment Opportunity Fund VI which will acquire approximately $1.8 billion of assets and its core plus focused FPA Core Plus Fund III which will acquire approximately $900 million of assets.  Headquartered in San Francisco, FPA also has offices in Irvine, Portland, Denver, Minneapolis, Dallas and Atlanta.  For more information please visit www.fpamf.com.
The multifamily brokerage team of Rue Bax, Alon Shnitzer, John Kobierowski, Eddie Chang and Doug Lazovick at ABI Multifamily represented the buyer and seller in this transaction.