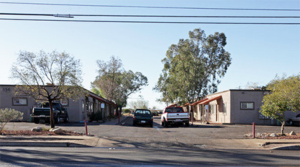 ABI Multifamily Negotiates Apartment Sale to Nevada Investor
TUCSON, ARIZONA — ABI Multifamily, the Western US's leading multifamily brokerage and advisory services firm, is pleased to announce the $1.65 million ($35,106 per unit) sale of the combined 47-Unit  Drexel Gardens and Drexel Terrace Apartments at 1356-1360 E Drexel Road in Tucson, AZ.
Both properties are garden style apartment communities originally built in 1983/84 of frame/stucco construction and sit on 3.29-acres of land near the intersection of South Park Avenue and East Drexel Road.  The combined properties feature (29) 2-bedroom/1 bath units, (15) 2-bedroom/2 baths and (3) 3-bedroom/2 bath units with a weighted average size of 771- square-feet.
"The Buyer has purchased several properties throughout the Tucson area over the last several years," states Jon Ibrahim, Vice President at ABI, who co-represented both the Buyer and Seller with Ryan Kippes, Vice President at ABI.  "The Drexel portfolio offers a highly desirable unit mix, in a great location with significant upside should the Buyer choose a more value-add approach to the property."
The Buyer in this transaction is a private individual based in Nevada.
The Seller in this transaction is a private individual based in Arizona.
The ABI Multifamily brokerage team of Jonathan Ibrahim, Ryan Kippes and Lance Parsons, CCIM, represented the Buyer and Seller in this transaction.