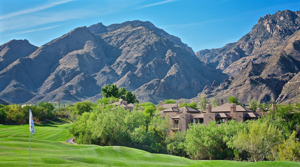 TUCSON, Arizona -- Long Beach, California investors, HSG Tucson, LLC (Scott Hamilton, manager) bought 54 condos at The Greens at Ventana Canyon, 5800 N Kolb Road in Tucson. Built in 1986 for apartments, and condominium converted in 2006, this class A property has 265 total units. The 54 condos commanded a sale price of $4.99 million ($92,444 per unit) in an all-cash deal.
The units were a mixture of  two- and three-bedrooms floor plans both upstairs and downstairs units.
Designed at the base of the Catalina Foothills, The Greens share the magnificent grounds of the world-famous Lodge at Ventana with its 36 holes of golf, Tom Fazio's two 18 hole championship courses (Mountain and Canyon). Winding through the canyons and arroyos of this 600-acre desert preserve are which have won numerous awards as the best in the country. The Lodge has been a prestigious AAA Four Diamond property for 20 consecutive years.
Large apartment homes of The Greens include thoughtfully-planned kitchens, spacious walk-in closets, plush wall-to-wall carpeting and more. Surrounded by twenty-one beautiful, lush acres; The Greens connect residents to amazing recreational outdoor activities. There are three sparkling pools, an impressive state-of-the-art fitness center and access to hiking trails through the Catalinas.
The ABI Multifamily Team of Alon Shnitzer, Senior Managing Partner; Lance Parsons, CCIM, Senior Vice President; Rue Bax, Senior Managing Partner; and Ryan Kippes, Vice President, negotiated for the seller, Ventana 20/20 LP of Vancouver, BC, Canada (John Murphy, president).
"The buyer, a California investor, was attracted to the property for a whole host of reasons," states Lance Parsons, CCIM, Senior Vice President at ABI in Tucson and co-lead broker on the transaction. "Primarily, the buyer purchased for resale value, although some of the condos were rented at time of sale."
For more information, Parsons should be contacted at 520.265.1945, Kippes can be called at 520.265.1895, Shnitzer is at 602.714.1283, and Bax can be reached at 602.714.1406.
To learn more, login and see RED Comp #4397.
[mepr-show rules="58038"]Closing date: 12/23/2016. Exact sale price: $4,992,000. Seller had paid $31,350,000 $118,302 per unit in 2005 when it purchased the 265 units.[/mepr-show]