ABI Multifamily Brokers $11.6M, 120-Unit Apartment Community in Glendale, AZ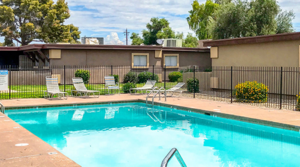 Phoenix, Ariz. – ABI Multifamily — the Western US' leading multifamily brokerage and advisory services firm — has announced the $11,635,000 / $96,958 Per Unit sale of Tuscano Village Apartments in Glendale, Arizona.
Tuscano Village is a 120-unit garden-style apartment community near 67th Avenue and Bethany Home Road, conveniently located near multiple retail outlets, restaurants and service providers.
Completed in 1974, Tuscano Village is an attractive low-density property with single-story layouts throughout and washers and dryers in each unit.
"The Buyer was drawn to the property's desirable unit mix of all two and three bedrooms. The ongoing revitalization of the neighborhood, drawing from Westgate Entertainment District to the west and the Loop 202 South Mountain Freeway expansion to the south, also contributed to its attractiveness" said ABI Multifamily Partner Doug Lazovick, lead broker for the team representing the Seller. "Finally, the Seller did an excellent job of renovating several of the unit interiors, giving a solid road map of the property's potential."
The Seller, Raven Multifamily & BlueSky Equity, is a Texas & California-based syndicator.
The Buyer, Prosperity Capital Partners & EnRitch Investment Group, is a Florida & Canada-based syndicator.
The Seller was represented by the multifamily brokerage team of Doug Lazovick, John Kobierowski, Alon Shnitzer, Rue Bax and Eddie Chang.