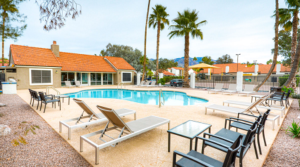 Phoenix, Ariz. – ABI Multifamily is proud to announce the $15,900,000 / $144,545 Per Unit / $113.45 Per SF sale of Orange Tree Village Apartment Homes in Tucson, Arizona.
Orange Tree Village is a 110-unit apartment community located in North Tucson's Casas Adobes submarket. The community is conveniently located just outside downtown Tucson, where dining, shopping and entertainment are easily accessible, but where a family friendly community feel is still noticeably present.
Built in 1981 and renovated in 2018, Orange Tree Village is improved with 22 one- and two-story buildings on 9.13 acres. The property features a mix of 20 one-bedroom units, 66 two-bedroom units and 24 three-bedroom units, with a weighted average of 1,274 SF.
ABI Multifamily's Alon Shnitzer, John Kobierowski, Rue Bax, Doug Lazovick and Eddie Chang, along with Ryan Kippes of ABI's Tucson office, represented both the Buyer and the Seller.
"The Seller did an amazing job turning this property around in a relatively short period of time," Shnitzer said. "Next Wave Investors aggressively renovated the property, starting with the exterior and amenities, then moving to interiors. Average rents and other charges moved approximately $200 over about one year, and there's more room to grow. In addition, the property is now well positioned for the incoming Buyer to continue improving, renovating interiors and moving rents."
The Buyer is a private investment partnership composed of BlueSky Equity and Vista Laguna Asset Management out of California, Hamick Asset Management out of Texas, and Valley Oaks Capital out of Phoenix. To date, their partners have completed more than $39 Million in acquisitions in the Arizona and Texas markets.
The Seller — an entity formed through Next Wave Investors, LLC — is a private investment company based in San Clemente, CA. To date, the firm has completed more than $150 Million in acquisitions, with the majority of its multifamily transactions happening in the Arizona, Utah and Nevada markets.