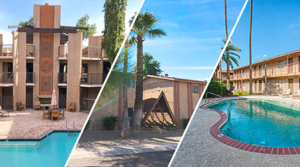 Phoenix, Ariz. -- ABI Multifamily is proud to announce the $25 million portfolio sale of three weekly rental communities in Phoenix, Ariz.
Each of the communities are operated as weekly rentals and generate strong cash flows. Their locations near Midtown Phoenix and Grand Canyon University offer strong appeal to a variety of rental demographics, and recent improvements to the properties have contributed to their desirability. Those property investments have included new boiler, chillers and asphalt seal coating, among others.
More particularly, the properties offer an affordable short term furnished option to their respective communities where there is short supply and high demand. Phoenix West is within 1.5 miles of the Grand Canyon University campus, and Phoenix Northwest is contiguous to the campus' eastern properties. Phoenix Central is located near the Phoenix Country Club and Phoenix Children's Hospital campus.
"The buyer was attracted to the strong cash flows and saw an opportunity with each property being uniquely well-located for varying investment strategies," Chang said. "Each property offers a value-add opportunity for the buyer and an affordable option for the consumer, which is highly sought after in the Phoenix market."
ABI Multifamily Partner Eddie Chang represented the Buyer Jevan Capital PLLC, with support from Senior Managing Partners John Kobierowski, Alon Shnitzer, Rue Bax and Partner Doug Lazovick
The Buyer and Seller are both private real estate investment groups based in Arizona.