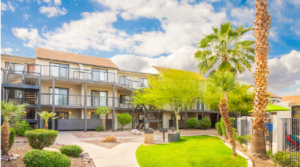 Tucson, Ariz. –  ABI Multifamily has announced the $38 million / $85,586 Per Unit / $133.99 PSF sale of the Overlook at Pantano Apartments at 1800 S Pantano Road in Tucson.

Overlook at Pantano is a 444-unit garden-style apartment community located on Pantano Road, nestled between Golf Links Road to the South and 22nd Street to the North, in the Southeastern part of the Tucson MSA.
Built in 1985, Overlook at Pantano offers a mix of one-, two- and three-bedroom configurations with a plethora of amenities that include a fitness center, playground, dog park, two pools, spas, two laundry facilities, clubhouse and a dedicated leasing office. The property features individual hot water heaters and is individually metered for electricity.
"Overlook at Pantano was an outstanding transaction and it was such a pleasure working with both parties again," said ABI Multifamily Senior Managing Partner Alon Shnitzer, lead broker representing the Buyer and Seller. "This property has been owned and professionally managed by The Wasatch Group for over 20 years and they did an excellent job in maintaining the property, which the Buyer, Element Property Company, can nicely build off of and complete an additional value-add play on."
The Buyer, Element Property Company, is a California-based multifamily operator. With the addition of Overlook, Element, Tucson's most active multifamily buyer, will own and operate a growing portfolio now approaching 4,000 units across the Western US including more than 2,000 units in the Tucson MSA.
The Seller, The Wasatch Group, is based in Utah and are a fully integrated real estate development, construction, property management and guaranty capital company, with holdings that include approximately 17,500 apartments plus commercial properties with assets totaling over $4 billion.

The Buyer and Seller were both represented by the ABI Multifamily Arizona large apartment transactions team of Alon Shnitzer, John Kobierowski, Rue Bax, Eddie Chang and Doug Lazovick.