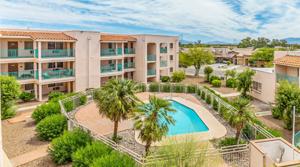 Tucson, Arizona — ABI Multifamily is proud to announce the $3,800,000 / $65,517 Per Unit / $122.12 PSF sale of Drexel Plaza Apartments at 5770 S Jeanette Blvd. in Tucson, Ariz.
The Drexel Plaza Apartments transaction consists of 58 garden-style units in the Airport/Drexel Heights/Sahuarita submarket, conveniently located near Tucson International Airport and I-19. In addition, the property is located a short 15-minute drive from The University of Arizona, giving easy commuting access for students and employees.
With 58 units built in 1988, the Drexel Plaza Apartments property has been controlled by the same owner/developer for over 30 years. The community features an attractive unit mix of (42) 1 bed – 1 bath units at 472 SF, (15) 2 bed – 1 bath units at 725 SF, and (1) Studio at 419 SF. All units have individual hot water heaters and are individually metered for electricity. Property amenities include a dedicated leasing office, an on-site laundry facility, and a large pool.
ABI Multifamily's Ryan Kippes and Desiree Palmer represented both the seller and the buyer.
"This deal provides tremendous value for the Buyer as the property is located near many of Tucson's largest employers" states Ryan Kippes, Vice President at ABI, who represented the Buyer and Seller in the transaction. "Creating a high demand of renters looking for a short commute to their work."
"It was a pleasure working with both Buyer and Seller. The property has been owned and operated by the Seller for over 30 years. The buyer has a great value add opportunity to build off the quality property management of the seller" Kippes added.
The Buyer is a Utah-based private investor. The Seller is an Arizona-based private investor.