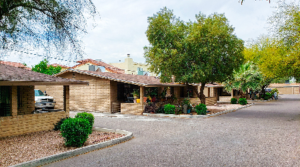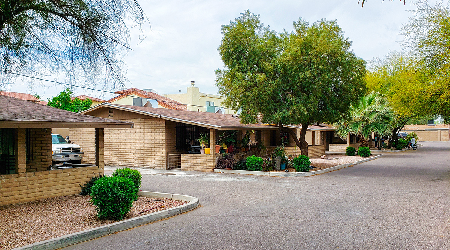 Phoenix, AZ  – ABI Multifamily is proud to announce the $2,450,000 / $175,000 Per Unit / $231.48 per square foot sale of Villa Hermosa, a 14-unit property in Phoenix.
Villa Hermosa is nestled in a primarily single-family neighborhood in the up-and-coming Midtown neighborhood in North Central Phoenix, conveniently located near Uptown Plaza, the Midtown Phoenix Light Rail, and the State Route 51 Freeway. The property is located down the street from the Piestewa Peak Park – a 10-minute drive from Phoenix Sky Harbor International Airport.
Built in 1966, Villa Hermosa consists of 14 low-density, duplex style two-bedroom units with private patios and carports. The seller had owned the property for over 30 years. The buyer plans on renovating the units, updating the finishes, and adding much-needed amenities.
"This is one of the few buildings in the area that have not been renovated or converted to condos. It's like finding a vintage car hidden in an old barn" says ABI Senior Managing Partner John Kobierowski. "Villa Hermosa is in solid condition, but somewhat dated and begging for a cosmetic renovation."
ABI Multifamily's John Kobierowski, Alon Shnitzer, Rue Bax, Eddie Chang and Doug Lazovick represented the buyer and seller.
The buyer, Neighborhood Ventures, is an Arizona-based private investment firm specializing in crowdfunded real estate investment opportunities. The seller is an Arizona-based private investment firm.