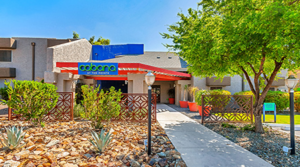 Phoenix & Tucson, Arizona — ABI Multifamily announced today it closed three transactions totaling $71,450,000 on March 21. The three transactions were the highlight of a 20 transaction First Quarter.
| | | | |
| --- | --- | --- | --- |
| Property | Market | Closing Date | Value |
| Serafina at South Mountain Apartments | Phoenix | March 21 | $27,450,000 |
| Cabana at the Pointe Apartments | Phoenix | March 21 | $22,200,000 |
| Mission Antigua Apartments | Tucson | March 21 | $21,800,000 |
"This was an exciting quarter both for us as an organization and for the multifamily market in general," said ABI Multifamily Senior Managing Partner John Kobierowski, "and it really showcases our exclusive focus on multifamily. The fact that we had three major transactions close in one day shows just how much opportunity there is in the market right now."
Phoenix Leads Nation; ABI Leads Phoenix
Kobierowski expressed great enthusiasm about Phoenix's status as the most exciting multifamily market in the county and ABI Multifamily's role in it.
"The Phoenix MSA is leading the country in in-migration right now and riding a sweet spot between affordability and attractive rent growth," he said. "Depending on what reports you read and what criteria they choose to target, there are several contenders for 'hottest multifamily market' in the nation, but when we attend national conferences and industry events, we're positively mobbed with investors of all types looking for first-hand expertise in the Phoenix market."
He added, "If I can brag for just a moment, ABI Multifamily is the leading brokerage for the hottest commercial real estate sector in the most exciting market in the country, and that feels really good."
To best serve its clients' needs, ABI Multifamily maintains dedicated teams of brokers covering the gamut of opportunities in the sector, including two-nine units, 10-99 units, 100+ units, land sales and manufactured housing. "The fact that our advisors are experts in their respective areas is one of the keys to our success," Kobierowski said. "Another major factor is that, unlike in many brokerages that foster an 'everyone for themselves' mindset, our team members actively share their expertise, insights, contacts and sources as part of our operating culture."
Senior Managing Partner Alon Shnitzer echoed Kobierowski's enthusiasm and praised both the company's brokers and the behind-the-scenes members who help with every transaction.
"None of what we do happens in a vacuum," Shnitzer said. "We have 22 advisors in four markets handling complex transactions of, literally, every possible size. We're supported by administrative and support teams of marketing, research and operational staff that are second-to-none, and our entire talent pool is brought to bear, as needed, to maximize our clients' value and return on every opportunity, regardless of size."