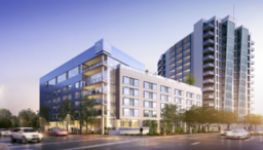 According to AZBEX, a new AC by Marriott hotel is heading for public hearing later this summer. The AC Hotel by Marriott Tempe is the final piece in the Hayden Ferry Lakeside complex. Situated east of the Lakeside parking garage, the 159-room hotel is undergoing a design modification before the application is final.
Standing six stories tall, the hotel is smaller than Lakeside's trio of office towers, but taller than the adjoining condominiums. HKS Architects, Inc. out of Denver, is handling the design for the project. A general contractor has not been selected. Woodbine Development Corporation is the project developer.
Situated in Hayden Ferry Lakeside East, 100 E. Rio Salado Pkwy., the AC Hotel by Marriott is the second in Arizona with that nameplate. The AC Hotel by Marriott Tucson received its first major approval with the development agreement sign-off by the city council. AC Hotel Tucson is proposed downtown near the Tucson Convention Center (Real Estate Daily News Jun. 6 and May 20)
The AC Hotel brand is the first European import by Marriott. Founded in Spain, the concept hotel provides a better environment for the select business traveler. It fits between Courtyard by Marriott and the full-service Marriott hotels. Woodbine's Phoenix representative, Kristopher Harman says the nameplate has a European ambiance that is found in its lobby, 24 hour lounge and urban contemporary styling.
It will have a small meeting room, media salons and a library common space providing guests with an opportunity to work / gather. The hotel has a rooftop pool and exercise area. One of its unique features is a collaborative work space replacing the staid business center found in many hotels.
"It's a hotel for urban spirits," says Harman. They're looking for late 2014 or early 2015 groundbreaking.