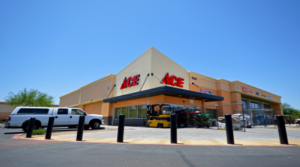 Phoenix, Arizona – SVN Desert Commercial Advisors has closed some big deals this year.  With a combination of retail, office, industrial and land sales, Jonathan Levy has added another valuable sale of ACE Hardware in the west valley.
ACE Hardware is located at 8365 W. Camelback Rd. in Phoenix. The 13,979-square-foot building sold for $1,800,000 to an investor out of Honolulu, Hawaii.  The sellers, Nevada New Builds, LLC & Assisting Seniors Coast to Coast, LLC are from Las Vegas, Nevada.  "It was very challenging at times but Jon stayed the course.  Jon was aggressive in staying after all potential buyers and we both worked diligently to get this one to closing as it had many obstacles," said the seller Glenn Plantone.
The property consists of an ACE Hardware franchisee and a cell tower tenant. The ACE tenant was paying below market rent and recently structured a new 10 year NNN lease. The overall price per square foot on the acquisition was under $150, making it a very attractive cash flowing investment for an investor.  "Levy stated, "I'm delighted I was able to broker a successful sale transaction for my client."  Levy's client equally was satisfied with the deal. "Jon Levy and his team did a terrific job our sale and I will most definitely use Jon should I have more commercial property to sell in the Phoenix area in the future," said Plantone.
The SVN client is heavily involved in residential real estate but was able to use SVN Desert Commercial brokerage services to complete the sale of the building.  "After fighting through a couple of obstacles, with both the cell tower and ACE lessees, both buyer and seller worked diligently to meet an expedited closing timeline.