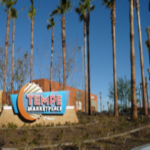 Tempe Marketplace, the popular open-air mall near Arizona State University's main campus, sold for $367 million by a joint venture partnership. It is one of the priciest real-estate deals in Arizona history.
Vestar and AEW Capital Management (AEW) have partnered to acquire Tempe Marketplace. Vestar previously owned the center and opened Tempe Marketplace in 2007; Rockwood Capital joined as a joint venture partner in 2010, which is exiting its investment after a five-year hold. The center offers strategically integrated shopping, dining and entertainment in a festive, pedestrian-oriented village town center environment. The Marketplace is fully occupied and recently welcomed several new tenants including F21 red (Forever 21's newest concept store), H&M and Nordstrom Rack. AEW acquired the property on behalf of the AEW Core Property Trust.
"Rockwood and Vestar have enjoyed an outstanding relationship, partnering on Tempe Marketplace and three additional joint ventures over the past several years," said Joel Mayer, Rockwood Managing Director. "We will continue to pursue new opportunities with Vestar in the future."
The 1.3 million-square-foot shopping center has dozens of stores and restaurants, including Nordstrom Rack, H&M and Dave and Buster's. The mall was sold in an unusual deal, with its developer Vestar being part of the groups buying and selling it.
"We have a great long-standing relationship with AEW and are excited that their vision for Tempe Marketplace matches ours," said Rick Kuhle, Vestar Chairman and CEO. "Rockwood has been an exemplary capital partner for us. We look forward to working with them on future ventures."
Phoenix-based Vestar and New York-based Rockwood Capital sold the mall to a partnership made up of Vestar and Boston-based AEW Capital Management. A $280 million deal with Rockwood in 2010 allowed Vestar to refinance Tempe Marketplace and buy out DLJ/Credit Suisse, its original partner in the project.
"We are excited about the investment, as we believe the center will continue to benefit from the nearby Arizona State University campus, as well as State Farm's move of approximately 7,000 professionals to a property that is adjacent to Tempe Marketplace," Dan Bradley, senior portfolio manager for AEW, said in a statement about the sale.
"Vestar continues to be committed to the success of Tempe Marketplace with AEW as our partner," said David Larcher, President of Vestar. "We will continue to focus our efforts on increasing the productivity of the center and providing an exceptional customer experience."