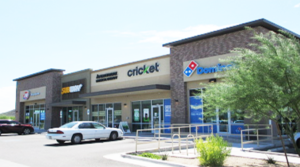 TUCSON, ARIZONA – Ajo Highway Shops, a retail strip center at 4889 W Ajo Highway sold for $3.415 million ($495 PSF) to a Colorado Investor, Midwestern Realty Limited, LLC of Aurora, CO.
The small strip center is located east if the Circle K at the Southeast corner of Ajo Hwy and Kinney Road. It was 100 % occupied at time of sale with such tenants as Subway, Apex Network Physical Therapy, Cricket, Dairy Queen, and Domino's Pizza.
Build in 2008, the 6,904-square-foot retail center serves a population of 100,618 within a 5-mile radius with above average income for the region.
John Schwikert and Chad Tiedeman with Phoenix Commercial Advisors represented both the seller, Ajo SEC Shops and the investor in the transaction.
For more information, Tiedeman can be reached at 602. 288.3472 and Schweikert should be contacted at 602.957.9800.
To learn more, see RED Comp #8753.