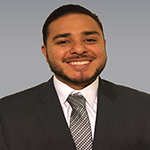 Phoenix, Arizona – Desert Commercial Advisors has announced that Alex Feria has joined the multifamily division at SVN in Phoenix. Associate advisor Feria will be working with senior investment advisors and CCIM's, Chip Kloppenburg and Carrick Sears who recently closed the $17 million deal of Amber Gardens in downtown Tempe.  Feria just completed a 3-month internship and will be on board full-time at the nationally recognized SVN Phoenix brokerage.
Feria was born in Fayetteville, North Carolina while his father was stationed there for military training in the army.  After his move to Arizona, Feria went to high school here in the valley and is finishing up his college degree at Arizona State University in Tempe, AZ.  He will finish his studies at the W.P. Carey School of Business with his Business Communications degree and minor in Real Estate. His entrepreneurial leadership was developed early on in life when he started his first promotional business during his senior year in high school.  He moved on to manage a successful entertainment and event company for five years.  That entrepreneurial background coupled with his previous role in executive management makes his a valuable asset in the commercial real estate industry. His minor in real estate from ASU will also be instrumental moving forward.
He is currently a member of NAIOP Developing Leaders and will be specializing in multifamily investment properties.  His resourcefulness, critical and outside the box thinking will be an advantage to his clients in finding the right investment properties across the valley. Feria prides himself being knowledgeable of specific demographics focused around student housing developments. He will serve as the contact at SVN for investors who are searching for student housing developments around primary and secondary collegiate markets in the state of Arizona. After only three days on board, he already listed a 4-plex property for sale located on the SEC of Priest Dr. & 5th St. in Tempe. Alex is also fluent in reading and writing in both English and Spanish so he will be able to help create more opportunities for Latino investors as well.