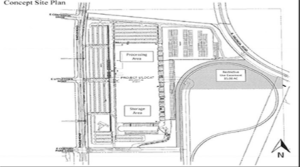 TUCSON, Arizona – Amazon recently paid $11.6 million ($145,926 per acre / $3.35 PSF) for its 79.5-acre site at  6701 S Kolb Road in Tucson within the 767-acre Century Park Research Center, an active inland port of Tucson in an active Foreign Trade Zone (FTZ) and an Arizona Enterprise Zone, both of which provide certain duty and tax benefits.
The building will consist of 857,388-square-feet of warehouse storage and office facility with three levels of mezzanines, totaling 1,196,161-square-feet and an additional process mezzanine of 265,049-square-feet.  The entire project will have 63 loading docks, nearly 400 transport trailer parking spaces, along with 2,500 standard parking spaces, on the site.
An additional 15 acres has also been set aside for future expansion for Amazon at Century Park.
Amazon did request that the location be annexed into the City of Tucson, which will happen when the building is completed.  The project is being developed by Seefried Industrial Properties.
According to research by CBRE Los Angeles-based industrial research, the land cost component of such warehouse development has risen and can represent more than half of a project's total construction cost, which ranges from $45 to $170 per square-foot.
However, rising construction costs have not constrained new warehouse development due to the strong demand and limited supply of modern logistics facilities.
Through the first 21 weeks of 2018, U.S. rail carloads were up 1.2% annually at 5,414,483, and intermodal containers and trailers up 5.9% at 5,736,006. Intermodal Carload Volumes 2018, according to the Intermodal Report by Association of American Railroad AAR.
Amazon's Tucson fulfillment center will bring with it 1,500 full-time associates with competitive wages and comprehensive benefits package including healthcare, 401(k) and company stock awards starting on day one.
To learn more, see RED Comp #5813.