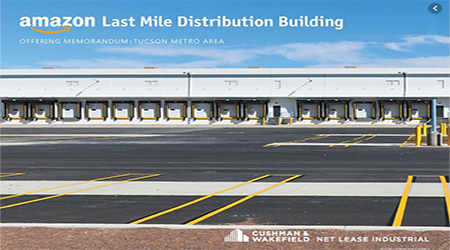 TUCSON, Arizona – The Amazon Distribution building at 775 W Silverlake Road in Tucson in a net investment sale for $17.718 million ($358 PSF). The newly constructed 49,500-square-foot distribution center is located near I-10 and I-19 close to downtown Tucson for delivery vans.
Scanell Properties of Indianapolis, Indiana assembled the 17.3-acre parcel for Amazon in 2018 and then built the facility in 2019. The property is leased triple net to Amazon.
The investor, Silverlake NNN, LLC is an affiliate of Spitzer Engineering of New York (Michael Brunelli, manager).
Sun Corridor and the City of Tucson worked to bring the Amazon distribution building to the downtown area, in addition to the larger sister property of Amazon at the Port of Tucson and say this building was designed for what is called "the last mile" deliveries. Independent drivers come, pick up packages and take these from the distribution center to the door.
The City of Tucson building permits peg the cost of the Silverlake building to be over $4.3 million.
The listing broker was Douglas Longyear of Cushman & Wakefield in San Francisco. Edward "Teddy" Seber also with Cushman & Wakefield out of New York, represented the investor.
Tina Olson with Cushman & Wakefield | Picor has been retained locally to manage the investment for the buyer.
For more information, Longyear can be contacted at 415.677.0458.
To learn more, see RED Comp #7446.