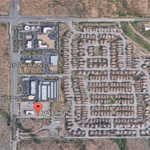 Whirlygig Properties of Tucson through an affiliate WG 8 LLC (Barry Kitay and Lynn Taylor, managers) purchased an 8.9-acre parcel at Houghton & Valencia in Tucson for $1.25 million ($3.22 PSF).
The property at 7655 S Houghton Road has 5,447-square-feet of industrial warehouse buildings that sold for land value.
Located adjacent and to the south of Houghton Crossings, a mixed-use retail/office medical use property, and Rita Ranch Self Storage, also owned and developed by Whirlygig, the property was purchased for future retail expansion.
Whirlygig develops retail shopping centers, offices and industrial complexes.
In the Southeast submarket, the property is in Rita Ranch near the Vail area. High profile employers in the area include Raytheon, IBM, Target, Canon USA, Citigroup, Walmart, Fry's, The Veteran's Association (VA) and Davis Monthan Air Force Base. Convenient Interstate-10 access via Houghton Road and within Vail School District, one of the highest performance school districts in Arizona.
Pat Welchert with Cushman & Wakefield | Picor in Tucson represented the seller, the Robert Zuckerman Trust of Santa Barbara, California. Whirlygig was self-represented in the transaction.
For more additional information Welchert can be reached at 520.546.2748 and Lynn Taylor should be contacted at 520.546.9003.
To learn more, see RED Comp #4238.