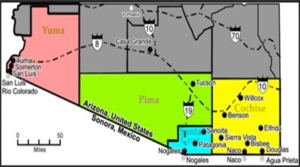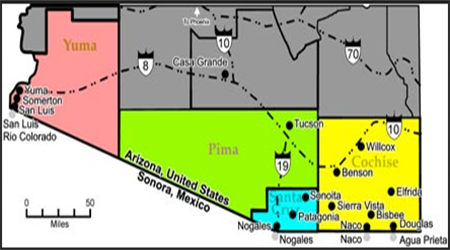 PIMA COUNTY – The recently formed Arizona Border Counties Coalition has established a list of goals aimed at helping the shared economy of Southern Arizona and Sonora, Mexico.
Membership of the Arizona Border Counties Coalition (ABCC) consists of one representative from each participating County selected by the participating County's Board of Supervisors. This an affiliation of Cochise, Pima, Santa Cruz and Yuma Counties.
The Coalition has earned broad-based, bipartisan support from lawmakers who represent border communities and share the goals of speaking with a unified voice on common economic issues.
"Arizona's four border counties are united by more than geography. Cochise, Pima, Santa Cruz and Yuma counties share many of the same economic challenges and opportunities. I applaud the leaders of these counties for their willingness to find common ground and speak with a unified voice on the issues that have a direct impact on their residents' quality of life. The Arizona Border Counties Coalition is a step in the right direction – an acknowledgment of the bright future that's possible when the communities along our state's 372-mile border with Mexico work together toward mutually agreed upon goals," U.S. Representative Martha McSally.
"My sincere appreciation to the recently-formed Arizona Border Counties Coalition in providing a needed voice for the people and communities of the Arizona borderlands. The complexity and delicacy of the issues facing our communities require the informed and practical expertise of border counties and their representatives. As we approach Arizona borderlands' needs such as Port of Entry upgrades, more customs personnel, local economic development, environmental protection and security strategy, the Arizona Border Counties Coalition will bring the on the ground perspective so badly needed. I look forward to the productive work ahead and your advocacy on behalf of the Arizona borderlands," U.S. Representative Raúl M. Grijalva.
The member Counties are represented by the following officials: Supervisor Sharon Bronson (D), Pima County; Supervisor Patrick Call (R), Cochise County; Supervisor Bruce Bracker (D), Santa Cruz County; and Supervisor Marco A. "Tony" Reyes (D), Yuma County.
"The interests of Arizona's border counties – whether political, social or economic – are inextricably linked. Because we have such close ties, it makes sense that we speak with a unified voice. The Arizona Border Counties Coalition allows us to do just that. I'm honored to have the opportunity to work with our partner counties on the issues that concern us all and to represent the people of Pima County." Supervisor Sharon Bronson represents Pima County.
"Like other rural Arizona border counties, Cochise County's economy is struggling.  Increased opportunities to stimulate the economy along our border is an important factor to recovery.  The Arizona Border County Coalition is a positive step in this direction.  It enables our county to have a larger voice in decisions which affect our residents," Supervisor Patrick Call represents Cochise County.
"Arizona's border counties need to work together.  Cross-border trade and tourism are integral parts of our economies and we need to coordinate our message to make sure that we make the greatest possible impact for our communities and our local businesses," stated Bruce Bracker, a member of the Board of Supervisors from Santa Cruz County.  "The Border Counties Coalition is the perfect vehicle to make our voices heard," Supervisor Bruce Bracker represents Santa Cruz County.
"Yuma County is honored to be a part of the Arizona Border Counties Coalition (ABCC).   The six Arizona Ports of Entry provide market and employment access for companies from the US and Mexico and tourists access to recreational activities and health services.  It is extremely important that the ports conduct business in a way that ensures goods and travelers cross as efficiently as possible.  The ABCC will provide border counties the means to speak in a unified manner, strengthening the focus on these issues common to our region." Supervisor Marco A. "Tony" Reyes represents Yuma County.
The Coalition, which held an inaugural meeting in March, set the following goals:
Collect, research, analyze data that supports the mission of the ABCC
Improve Ports of Entry Efficiency

Advocate for the creation of a funding mechanism for border community infrastructure
Staffing – Advocate for adequate staffing at all Arizona Ports of Entry

Identify and support the implementation of innovative inspection programs and technologies that offer gains in effectiveness and efficiency
Promote multimodal transportation alternatives at the border
Promote cross border business opportunities
Partner with like-minded organizations that promote trade and tourism with Mexico
Increase awareness of the direct economic link between Arizona and Mexico
Promote programs that enhance the quality of life of the residents of the border region
Reduce or eliminate costs incurred by Border Counties as a result of federal actions such as incarceration
The primary purpose of the coalition is to create a unified voice to advocate for legislation and actions related to economic development and other shared topics along the Arizona/Mexico border.
In this role, the Arizona Border Counties Coalition will support local, state, and federal legislation and regulations that serve economic development opportunities in southern Arizona. There also will be a specific focus on policies and issues that affect the quality of life and economy along the border.