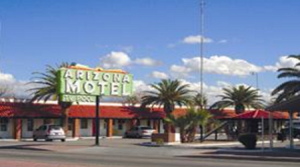 TUCSON, AZ (October 4, 2023) - The Arizona Motel at 1749 S 6th Avenue in Tucson sold to Casa Maria in South Tucson for $3.075 million ($53,947 per rental unit).  The transaction closed on September 1, 2023.
The property consists of a 32-room hotel and a 25-space RV park. Offering guest laundry, an outdoor pool, barbeque, and a game room with pool & foosball tables. The motel has a large manager's quarters, three bedrooms, two full bathrooms, a living room w/ fireplace, a full kitchen, a small backyard, a car garage & one covered parking in the back. It is well positioned with frontage exposure on the main 6th Avenue artery.
Community leaders in South Tucson purchased the property for affordable housing for Casa Maria.  For two years, workers at the Casa Maria Soup Kitchen were saving to purchase several properties within South Tucson for affordable housing.
Earlier this year, they purchased the El Camino Motel at 297 E Benson Hwy and are renovating it. The funds to buy the Arizona Motel came earlier than expected, but they were eager to put the money to good use.
Brian Flagg is one of the Casa Maria Soup Kitchen workers and a City of South Tucson council member, well-known in the community for his work serving the City of South Tucson for over 40 years.
Flagg inherited a million bucks from his family after his mother passed away. So, that money was used as a down payment for the hotel.
One of his partners in the deal, Roxanna Valenzuela, who also works for Casa Maria and is a South Tucson City Council member, shared the news of his donation. She knew how necessary the purchase was to keep affordable housing in the city and prevent further gentrification.
"The Arizona Motel has been serving South Tucson since 1930, and we're hoping to keep it in the community and off the speculative market to continue serving those who need it the most, the most vulnerable communities," said Valenzuela.
With downtown Tucson less than two miles away, Valenzuela and Flagg were worried this property was at risk. Now that the purchase is complete, they plan to keep the rent the same for the current, longtime residents.
Valenzuela and Flagg are still hoping to raise another $7 million in donations to purchase two other properties, the Paradise Inn and the Star Motel. This will provide 365 affordable housing units within one square mile of South Tucson.