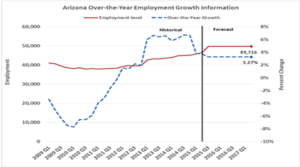 Job totals trail pre-recession levels in 10 US states
Ten U.S. states still have not regained all the jobs they lost in the Great Recession, even after six and a half years of recovery, while many more have seen only modest gains.
The figures help illustrate the uneven nature of the economic rebound since the Great Recession ended in June 2009. They also suggest why many Americans feel the improvement has passed them by. Ongoing economic anxiety, despite some data suggesting the economy has recovered, is fueling much of the support for insurgent presidential candidates such as Donald Trump and Bernie Sanders.
Arizona's seasonally adjusted unemployment rate dropped one-tenth of a percentage point from 5.6% in January to 5.5% in February. The U.S. seasonally adjusted unemployment rate remained unchanged at 4.9% in February. A year ago, the Arizona seasonally adjusted rate was 6.3% and the U.S. rate was 5.5%.
The Office of Employment and Population Statistics within the Arizona Department of Administration is projecting gradual gains in employment in Arizona for the 2015-2017 time period. An over-the-period gain of 156,535 jobs are projected to be gained over the projected years (2015 Quarter 3 to 2017 Quarter 2). In the current projection period, the rate of growth for total employment is 2.84%.
Highlights:
• Eleven of the twelve sectors are forecast to add jobs over the two-year period
• Professional and Business Services (PBS) sector is projected to add the largest number of jobs (34,902) over the two-year period (4.36% annual growth)
• Construction is projected to record the largest annualized percentage gain at 6.6% (17,732 jobs)
• Sectors with the largest expected gains are: Professional and Business Services (34,902 jobs), Educational and Health Services (31,428 jobs), Trade, Transportation and Utilities (23,414 jobs), Leisure and Hospitality (22,594 jobs), and Construction (17,732 jobs)
The complete forecast is available for download at https://laborstats.az.gov/employment-forecasts.