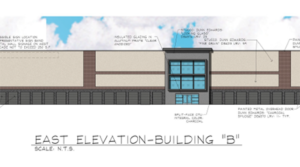 PHOENIX, Arizona – Aspirant Development of Phoenix (Geoff Jacobs, Principal) acquired 8.5 acres located at the NEC of the 202 Freeway and Washington Street in Phoenix for a price of $4.53 million ($12 PSF). The Seller was the Marusiak-Remaklus Family Partnership.
Aspirant will be building a three-story 125,000-square-foot mini storage development at the north end of the site with building permits slated to be ready March, 2017.  The remaining six acres of the site is zoned for 300+ units of multi-family.  Aspirant is negotiating to sell that parcel to a developer for a 3rd Quarter 2017 closing.
The "Washington Street Corridor" continues to experience revitalization and significant new development.  This new infill development corridor uniquely combines the joint resources of the cities of Phoenix and Tempe.  Major developments include The Grand at Papago Park Center, a new 56-acre mixed-use development located at the SWC of Washington and Priest which includes 2.5 million-square-feet of retail and office buildings with 550 new luxury apartment units.
Another project is the I/O Data Center expansion on 48th Street just south of Washington.  This expansion will bring the total I/O Data Center size to approximately 800,000-square-feet with additional investment of $400 million.
Additionally, Phoenix has approved the only new light rail station at 52nd Street and Washington at a cost of $12 million.  The station will open in early 2018.
The Washington Street Corridor is within a three-mile radius of over 20,000 jobs and this number is slated to increase significantly in the very near future.
Ray Cashen of Cashen Realty Advisors was the Broker in the transaction and is representing Aspirant in the resale of the six-acre multifamily tract.
Get more from Cashen at 602-393-4447.