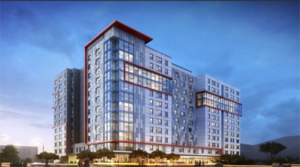 TUCSON, ARIZONA – In the highest sale price this year, Aspire Tucson Student Housing tower at 950 Tyndall Avenue in Tucson sold for $96,732,000 ($192,300 per bed) to Chicago-based, Heitman Capital Management.
Located at the southeast corner of First Street and Tyndall Avenue, the 10 story tower with double story penthouse and deck pool was built in 2017 by Dallas-based, Dinerstein Companies with studios, one-bedrooms, two-bedrooms, four-bedrooms, five-bedrooms and six-bedrooms, that total 149-units and 503 beds. Sterling- Tucson, an affiliate of Sterling University Housing is a wholly owned subsidiary of Dinerstein Companies, which sold the property fully furnished and leased; a declared value of $13.74 million for personal property.
Aspire is a LEED Certified building, an international recognized green building certification system developed by the U.S. Green Building Council (USGBC). The voluntary LEED program provides third-party verification that a project meets guidelines set by the USGBC for achieving high performance and sustainability through green design, construction, operation and maintenance.
As such, it is constructed to reduce carbon footprint with:
Covered Bicycle Racks – 102 bike parking spaces
Carpooling/Rideshare Program – 146 parking spaces
Close to Mass Transit/Retail/Restaurants
Bum-A-Bike Program
Built to reduce water usage by 25-40% and energy usage by 17-30% with:
Water Efficient Fixtures
Drought Tolerant Landscaping
ENERGYSTAR Windows and Kitchen Appliances
Energy Efficient HVAC, Tankless Water Heaters and Lighting
Programmable Thermostats
High Grade Air Filters (MERV 8)
Energy Efficient Air Conditioning and Heating
Other Green Features include on-site recycling, low VOC finishes, carbon monoxide monitors, and green label carpet and padding.
Dinerstein has recently broken ground on Aspire II, an 8-story tower at 947 N Park Ave., the southwest corner of Park Ave. and First Street. We were told this project  is expected for completion in 2021.
Jaclyn Fitts, Executive Vice President, Student Housing with CBRE Dallas, William Vonderfecht, First Vice President, Student Housing, with CBRE Dallas, W. Michael Sandahl, Vice Chairman, Tucson Multifamily, and Casey Schaefer, First Vice President, Student Housing handled the transaction for the seller.
For more information, Sandahl can be reached at 520.323.5100 and Fitts can be contacted at 214.979.6524.
To learn more, see RED Comp #7351.