Lee & Associates Negotiates $26.5M Sale of AvAir Headquarters in Chandler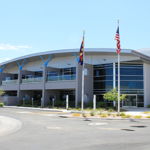 CHANDLER, Arizona – Rich Uncles NNN REIT Inc. of Costa Mesa, Calif., expanded into the Phoenix market through a $26.5 million ($163 PSF) purchase of AvAir's headquarters, a 162,714-square-foot creative office/warehouse space. The property is located at 6877 and 6971 West Frye Road in Chandler.
Principal Andy Ogan of Lee & Associates Arizona brokered the sale. The seller, Reasons Aviation LLC, was assisted by John Hink of Tiffany & Bosco P.A.
The high-tech, state-of-the-art, two-building complex is currently occupied as headquarters for AvAir Inc., a commercial aircraft parts business. The sale agreement allows AvAir to occupy the space for 15 years. Developed in 2015, the two buildings sit on 6.17 acres in the Santan Technology Park at the northeast corner of Loop 202 and 56th Street.
"AvAir's headquarters created an ideal opportunity for Rich Uncles to break into the Valley market by acquiring a new cutting edge, creative/office warehouse development with a global aviation tenant," said Ogan. "This transaction will provide long-term, durable cash flows in a market poised for sustained growth and capital appreciation."
For more information, visit www.leearizona.com or contact Andy Ogan at (602) 474-9565 or aogan@leearizona.com.