Barker Pacific Group and Rockwood Acquire Class A Office Building in Pasadena's Lake Corridor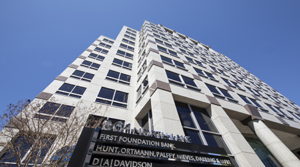 Pasadena, CA – In a joint venture with Rockwood Capital, Barker Pacific Group (BPG) has acquired 301 N Lake Avenue, a 227,019-square-foot Class A office building in Pasadena, California. The project was built in 1989 and is located on one of Pasadena's most prominent and active thoroughfares. Previously operated by Washington Capital Management on behalf of an unidentified seller, the 11-story office building is in pristine condition.
"We're excited to return to Pasadena," said Michael Barker, BPG's Managing Director. "301 N Lake is in a fantastic location, and there is a great opportunity to take advantage of the city's strong market conditions."
Pasadena is currently seeing a boom in office market activity, with nearly 230,000-square-feet of positive net absorption through the second quarter of 2018. The area is picking up steam, with over 20 new deals in the last quarter and several large tenants looking for space. Average office rents in the city are still below their previous peak. The BPG-led joint venture plans to make strategic improvements to modernize the property, adding value while taking advantage of market conditions and bringing businesses to the area.
"With an attractive cost basis, strong location, and excellent physical bones, 301 N Lake will be an excellent addition to BPG's portfolio," said Michael Barker.
Rockwood Capital's John MacDonald said, "This property is a great fit with one of Rockwood's key investment strategies – investing in dynamic mixed-use urban environments in properties that benefit from public transportation. We are confident in the long-term desirability of office space in downtown Pasadena."
CBRE's Mike Longo and Sean Sullivan brokered the sale of the property. Debt financing was provided by JP Morgan.