DAUM Commercial Architects CBD Emporium Corporate Headquarter Expansion in Phoenix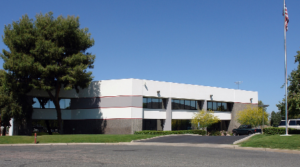 Phoenix-based health and wellness company moves into new 16,500-square-foot office and distribution facility
PHOENIX, Ariz., – DAUM Commercial Real Estate Services has successfully arranged the 7.5-year lease of a nearly 16,500-square-foot flex/industrial building in Phoenix, Arizona on behalf of both the lessee, CBD Emporium, a health and wellness company specializing in hemp-derived CBD products, and the landlord, a California-based private investor.
According to DAUM Associate Carter Wilson, who completed the lease transaction alongside DAUM Executive Vice President David Wilson, the property will serve as the new corporate headquarters of the tenant, CBD Emporium, Inc. "The CBD industry is booming in Arizona, due in part to regulatory changes," explains Carter. "The tenant was experiencing a critical need for a larger headquarters location to accommodate its rapidly growing retail operations throughout the Phoenix area and the greater Southwest."
David notes that this property features large offices for the executive and administrative teams, as well as a fully air-conditioned distribution warehouse.
"This was truly a win-win for both the lessor and the lessee," David continues. "CBD Emporium secured a new home base ideally suited to its operations, while the landlord benefits from a high-performing tenant poised for further success."
Carter adds that DAUM was able to help facilitate an easy transition for the tenant, even throughout the hectic expansion period and further hurdles caused by the pandemic.
"We could not be more impressed with the professionalism of the DAUM team," noted CBD Emporium's Vice President of Operations, Stacey Schofield. "The ease of the transition demonstrates clearly why DAUM is a leader in helping fast-growing companies like ours."
This will be the second corporate headquarters the Wilson Team has moved into the Metro Industrial Center this year. The property is located at 2424 W. Desert Cove Ave. in Phoenix, Arizona. The total consideration of the lease is approximately $1.5 million.