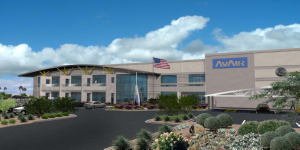 CHANDLER, AZ – Arizona-based Av Air, Inc. has hired Sun State Builders to construct its new two-building, 162,500+ square-foot headquarters for a total project cost of nearly $15 million.
The 6.17 acre parcel at 6877 W. Frye Rd., Chandler, fronts the Loop 202 Freeway in Santan Technology Park. Av Air purchased the property and broke ground soon after closing.
Andy Ogan, Principal with Lee & Associates Arizona negotiated the transaction for the land and build-to-suit project. Architectural services were provided by Wes Balmer with Balmer Architectural Group. Tom Altieri of MidFirst Bank provided the financing with an SBA 504 loan. According to Altieri, it was one of the largest SBA loans done in Phoenix-area history.
The new buildings will consist of a 92,500-square-foot building with 20,000-square-feet of office space and a 70,000 –square-foot storage/distribution building. Both buildings will feature metal deck, steel trusses, 30' clear height, grade level and truck-well loading doors.  The project is estimated to be completed in the fall of 2014.
Av Air, a provider of aftermarket aviation parts and services, will vacate 67,000-square-feet currently owned and occupied in its Chandler headquarters at 33 South 56th Street and 1510 West Bell De Mar Drive in Tempe to consolidate operations in its new facility. Av-Air will be offering the 67,000-square-feet in both facilities for lease.
Ogan will be the listing broker for both properties. For more information, Ogan can be reached at (602) 474-9565.