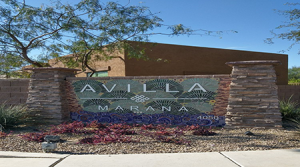 MARANA, Arizona — The luxury rental community of Avilla Marana at 4050 W Aerie Drive, Marana will be expanding with up to 400 new homes across the street.
The owner of Avilla Marana purchased 23-net acres for up to 400 homes at 4025-4105 West Aerie Drive in Marana for $9.5 million ($413,000 per net acre). The gross land area includes a wash that adds an additional 4-acres to the site for approximately 27 total acres. It sold rough graded and platted for up to 400 homes.
Art and Clint Wadlund of Berkadia Rea; Estate Advisors Tucson represented the seller, Alta Vista Communities RP, LLC of Tucson (Roger Karber, manager).
The buyer is a Santa Barbara, California company, M3 Multifamily, LLC. Formed in 2008 by John Mosby and Jon Martin for the purpose of acquiring, renovating and managing existing apartment communities in the United States in order to create cash flow and profits for their investors. Since then, M3 has grown steadily, and currently owns/manages communities in Austin, San Antonio, Nashville, Reno, and Tucson.
The investment group purchased the existing Avilla Marana in December 2017 with 284 rental homes, exactly three years prior to purchasing the new expansion site that closed December 2020.
This transaction represents the fifth acquisition for M3 Multifamily in Tucson from the same seller. It also owns Aerie at Tanque Verde, an 85-unit detached luxury rental community, located at 2495 N Desert Links Drive in Northeast Tucson purchased in 2013; Avilla River luxury rental community, a 76-unit community at 1000 W River Road, Tucson sold in 2014; and Avilla Preserve Orange Grove, a 184-unit luxury rental community, located at 2501 W Orange Grove Road, Tucson was acquired in 2015.
Avilla Marana is professionally managed by MEB Management Services. The one-, two- or three-bedroom homes feature a private back yard, 10-foot ceilings, granite countertops, stainless steel appliances and clerestory windows. Only a few minutes from great restaurants, shopping and entertainment as well as the beauty that Tucson has to offer at its Catalina State Park and Saguaro National Park all nearby.
For additional information, Art and Clint Wadlund can be reached at 520.299.7200.
To learn more, see RED Comp #8338.