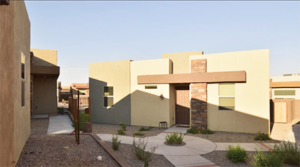 Highest per unit price recorded for non-student housing with 40+ units in the Tucson
TUCSON, ARIZONA – Alta Vista Communities of Tucson, an affiliate of Aerie Development (Roger Karber, manager) sold Avilla I & Avilla II luxury communities on the southeast and southwest corners of River and Sabino Canyon Roads in Tucson for $42.3 million ($231,169 per unit) for the aggregate 183-units. The transaction represents the highest per unit price hit by non-student housing with 40+ units in the Tucson metro area.
Avilla Sabino I (built in 2016) at 3515 N Sabino Canyon Road has 53 two- and three-bedroom unit mix and sold for $11.764 million ($234,925 per unit). Avilla Sabino II (built 2017) at 3500 N Sabino Canyon Road has 130 three-bedroom / two-baths units and sold for $30.54 million ($221,957 per unit). Across the street from each other,
both exclusive gated rental communities are in the heart of breathtaking Sabino Canyon. The homes feature luxury finishes you would expect to find in a custom home: private backyard, 10 feet prime ceilings, granite countertops, stainless steel appliances, dramatic clerestory windows that bring the beauty of natural light and Sabino Canyon inside. Avilla Sabino I & II combines luxury living within minutes of the Catalina Mountains, Mount Lemmon and infinite hiking, biking and recreational opportunities.
The property was running at 95% occupancy when it sold.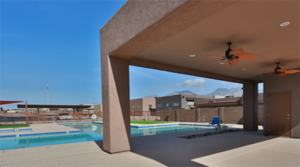 The seller, Alta Vista Communities is a joint venture of Karber Holdings (Roger Karber) and Brav Holding Company (Garry Brav) an affiliate of BFL Construction, the contractor for the communities.
Senior managing director, Art Wadlund and associate Clint Wadlund of the Tucson Berkadia office negotiated the transactions for the seller.
"This is the second Avilla community that Aerie has sold to Farnam, following the sale of Avilla San Marcos in Chandler, Arizona in 2016," said Wadlund.  "The buyer has been very happy with the performance of this single-story detached product and wanted to add Avilla Sabino to their portfolio."
The buyer was Phoenix-based Farnam Companies (Charles Duff, manager) that purchased the Alta Vista community in Chandler, AZ several years ago for $45 million.
"Alta Vista recently sold three properties with an aggregate value of $135 million," Karber told us. "The Avilla community on Orange Grove under construction, with 240-units has 100-units completed and leasing, that project should be finished before year end."
For more information, Art Wadlund should be contacted at 520.299.7200 and Clint Wadlund is at 520.529.9206.
To learn more, see RED Comp #5762 and #5763.