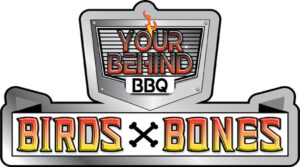 Florence, Arizona – November 23, 2022 – The Town of Florence is excited to announce a new barbecue restaurant Your Behind BBQ – Birds & Bones will be opening in 2023. The restaurant will be located on North Main St. in the Town's historic downtown district, taking over for the previously adored Grace's Place. The award-winning BBQ Pitmaster, Kyle Mataszewski, his father Jerry, and business partner Justin Coffino are looking forward to bringing a unique food concept to the Florence community.
Not only did they compete and place in a Florence BBQ competition a few months back, that experience led them to open a new restaurant in town. They also recently competed in the Volkswagen & Pitmaster Roundup' held at the Charles Whitlow Rodeo Arena and were crowned Grand Champions. They took first place in chicken, second place in ribs, third place in brisket, and seventh place in pork. But in no way was that their first rodeo! The inspiration that fuels Kyle's passion dates back to his childhood and learning how to cook BBQ with his father and grandfather, Benny.
The father-son duo was inspired by the television show, BBQ Pitmasters, and with their first smoker and passion for good barbecue, the team eventually started competing professionally. In 2014, they entered their first Kansas City Barbeque Society (KCBS) competition in Scottsdale, Arizona, which pitted the team against 127 rivals. During the awards ceremony, they were shocked to hear their name called – they had placed seventh in chicken at their first official contest. Mataszewski recalls, "Walking that stage with my dad and seeing the smile on his face when we got a 7th place chicken call, I knew this is something he and I could do as a father and son. This was something I felt I belonged to." In fact, since then, they have received hundreds of awards over the last 8 years. Earlier this year, out of 249 teams, they placed fifth overall at the American Royal World Series of BBQ. Some of their other awards include fourth place overall in the pork shoulder category at the Memphis in May World Championship BBQ contest and first in the Steak Sevier Sear Quad Cookoff. You can read more about their awards and events on their website, www.yourbehindbbq.com.
Commenting on this new addition to Main St., Community & Economic Development Director, Harvey Krauss said, "There is a considerable amount of excitement brewing in Downtown Florence with the recent news that a BBQ Pitmaster from Food Network will be opening a restaurant on Main Street. Kyle and Bill Mataszewski recently purchased the former Grace Place building and plan to open a new restaurant featuring their award-winning BBQ. This will be a great culinary addition to historic Florence!"
The Town of Florence is excited to begin spreading the word about the new restaurant that will be opening in early 2023. Kyle and his team plan to open the restaurant at 10:00 AM daily and stay open later on the weekends so families can enjoy a night out. They will also be hosting special events, such as Thursday night football, in addition to many others. The property is located at 270 N. Main St, Florence, AZ 85132. The restaurant is 2,000 square feet with an additional 950 square feet dedicated to an outside patio. "This is a family affair for us is how I
look at it, Justin has the support from his family that wants to see us succeed. My family is 100% behind me on this adventure I'm on. This is my passion. I eat, breathe, and sleep BBQ and cooking," said the owner, Kyle Mataszewski. So, for all you BBQ fans out there in Florence, you'll soon have your own Pitmaster celebrities bringing all their award-winning dishes to a neighborhood near you.