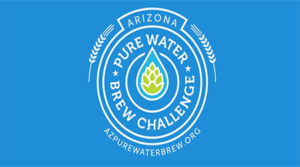 Project receives Governor's Award for Arizona's Future
PIMA COUNTY – Pima County's AZ Pure Water Brew Challenge project won the Governor's Award for Arizona's Future at the 38th Annual Arizona Forward Environmental Excellence Awards presented by SRP, Oct. 6 in Scottsdale. Arizona Forward honored the project for its effort to effectively steward water resources and engage the public in sustainability efforts.
Every year, Arizona Forward recognizes individuals and organizations who embrace sustainability in their efforts to improve their communities. This year, Pima County's AZ Pure Water project made the cut for two nominations. The project was a finalist for the 2018 Governor's Award for Arizona's Future and the Sustainability Champion Award, which was a new category added this year to recognize individuals who demonstrate leadership in encouraging the adoption of sustainability practices and companies for reducing the burden on landfills.
"This is a great honor, there were so many outstanding projects being recognized," said RWRD Deputy Director Jeff Prevatt, who led the project. "Our project will help ensure long tern water sustainability for future Arizonans and has really helped promote water reuse discussions nationwide."
Led by the Pima County Regional Wastewater Reclamation Department, the AZ Pure Water project helped change the perception regarding recycled water in many Arizona communities by using recycled water to produce ultra-pure bottled water and ultimately craft beers. Using a one-of-a-kind mobile potable reuse treatment facility, the project team, which included several Southwest Water Campus partners, treated more than 80,000 gallons of recycled community wastewater to use for a brew challenge competition, which culminated in 2017.
Arizona Forward presented awards in eight categories awarding 13 Crescordia winners, which is the top honor in each category, and 18 Awards of Distinction. As a finalist, AZ Pure Water will be spotlighted in a special section featured in the Phoenix Business Journal.
Including the Water Innovation Challenge, which provided the funding to bring the AZ Pure Water project to fruition, the project has received numerous accolades. Starting with the most recent, here's a listing of awards received to date:
Governor's Award for Arizona's Future
Audience Choice Award
To learn more about the AZ Pure Water project, visit the AZ Pure Water Brew Challenge Facebook page.