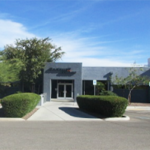 TUCSON, ARIZONA — Burl Holdings,LLC (Russ Bomhoff) sold the property occupied by B/E Aerospace in the Eastside Research / Commerce Center sold to an investor from Anchorage, AK for $13.2 million ($105 PSF).  The Florida-based company, B/E Aerospace, bought the Tucson company  Bomhoff Inc., a maker of cabinetry for business jets, in 2002.  Bomhoff kept the real estate when the business sold.
The original 90,000-square-foot building at 1851 S Pantano in Tucson was built in 1985 and the tenant added 25,000-square-feet of office and 15,000-square-feet of warehouse space for 40,000-square-feet of A/C cooled office space.
The company employs nearly 900 workers in Tucson and is a major provider of airline seats to many airlines worldwide. Some significant customers include United Airlines, Delta Air Lines, Emirates Airlines, Qatar Airways, Air France, KLM, Lufthansa, Qantas, Japan Airlines, and Southwest Airlines. Customers using the company's most popular product – Diamond Business Class Seat, include Aeroflot, Aeromexico, Air Canada, Air China, American Airlines, China Airlines, China Southern Airlines, Delta Air Lines, KLM, Qatar Airways, Thai Airways, United Airlines, Virgin Australia and Xiamen Airlines. Some of B/E Aerospace's rivals in the airline seating industry include Acro Aircraft Seating in the UK, Zodiac Seats U.S. in Gainesville, Texas, Zodiac Seats France, STELIA Sogerma Seats in France, Geven in Italy, Recaro in Germany, Expliseat in France and Aviointeriors in Italy. The company also manufactures beverage makers, ovens, oxygen systems, lavatories and interior lighting for commercial aircraft and business jets
Rockwell Collins, a manufacturer and supplier of aviation and integrated solutions for both commercial and government applications acquired B/E Aerospace for $8.6 billion, including the assumption of debt in 2016.
In the Business Jet Seating segment, one of B/E Aerospace's main competitors, United Technologies Corporation, announced in September its plan to acquire Rockwell Collins.
Steve Cohen and Russ Hall with Cushman & Wakefield | Picor in Tucson handled the sale of the property.
Cohen and Hall can be reached at 520.748.7100.
To learn more, see RED Comp #5539.