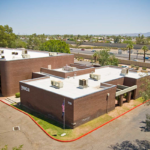 Phoenix, March 25, 2015 – Colliers International in Greater Phoenix recently completed the sale of the 31,746-square-foot YWCA Class B office building in Phoenix for $1.85 million ($58.29 PSF).
Banner Health of Phoenix purchased the building, located at 755 E. Willetta Street, from Arizona YWCA Metropolitan Phoenix.
The buyer was represented by Pat Williams, managing director of Jones Lange LaSalle. The listing broker was John Barnes, vice president with Colliers International.
The two-story building is situated on 86,579 square feet adjacent to the Banner Good Samaritan Medical Campus at the northeast corner of 7th Street and I-10. The park is dominated by the Banner Good Samaritan Medical Center, a Level One trauma hospital, and the second largest hospital in metropolitan Phoenix.
"Banner has plans to renovate and upgrade this fabulous medical campus over the next 20 years," said Barnes, noting, "Demand in the area is driven by the Arizona State University downtown campus, medical research facilities at the Phoenix Biomedical Research Center (TGEN/IGC) and the University of Arizona College of Medicine, as well as state, county and city government offices."
Built in 1986, the building consists of administrative offices, conference and meeting rooms, an outdoor swimming pool, locker rooms and a dormitory upstairs which includes a laundry room and kitchen. There is one standard sized elevator. The Arizona YWCA Metropolitan Phoenix regional offices were on the first floor, with the upstairs leased to Lodestar as a homeless shelter for veterans through August 2016. 
The building is constructed of block, steel and glass. On site are 79 parking spaces with on-street parking available as well as large parking lots surrounding the property. Adjacent are medical offices to the east and west, a parking lot to the north and I-10 to the south.