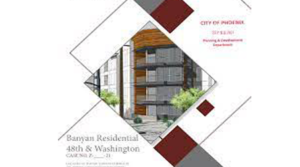 The planned $200M+ development includes 515-unit luxury apartments
PHOENIX, AZ (Nov. 2, 2022) – Banyan Residential, a Los Angeles-based private real estate investment firm, in partnership with national developer Milhaus, announces the acquisition of a 15.5-acre site in Phoenix, Arizona. The team will develop a two-phased 515-unit apartment community along the Washington Street light rail corridor in an Opportunity Zone. This project marks Banyan's ninth Opportunity Zone development and its fourth deal with Milhaus.
Located at the Southwest corner of 48th Street and Washington Street, the community will include a mix of studios, one-, two-, and three-bedroom units, ranging in size from 415 to 1,392 square feet. The building will feature extensive amenities including two clubhouses and resort-style pools, a fitness center, park space, and dog park. Units will include first-class finishes including glass showers, walk-in closets, premium kitchens with stainless steel appliances, and private balconies.
In September 2022, following over a year of intensive entitlement efforts, Banyan received unanimous City Council approval for the rezoning of the underutilized vacant site that sat empty for years. Construction is slated to begin on Phase One, which includes 320 units, in Q1 2023.
"This site provides a tremendous opportunity to bring high-quality apartments to an area experiencing remarkable growth due to its convenient location, public transportation, and expanding employment hub," said Max Friedman, Partner at Banyan Residential. "We look forward to adding another property to our growing multifamily portfolio and to partner once again with Milhaus."
Centrally located in the city, the community will offer residents a convenient living space less than 15 minutes from the airport and top employers in downtown Phoenix, Tempe, and Scottsdale. In addition, the building will offer a pedestrian-friendly environment, providing convenient access to the Valley Metro light rail two blocks to the east.
"This development is well-aligned with Milhaus' core investment philosophy focused on providing best-in-class multifamily properties within growing markets," said Brad Vogelsmeier, Vice President of Development at Milhaus. "We are excited to soon begin construction so we can provide much-needed rental housing within Phoenix's vibrant community. We are equally excited about our continued relationship with Banyan, who has been a terrific partner."
For more information, please visit Banyan Residential at banyanresidential.com.