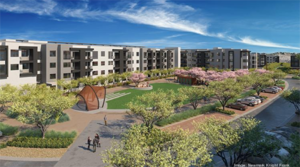 Buyer to Break Ground Q2 2020 on spec mixed-use redevelopment project for 2021 delivery
SCOTTSDALE, ARIZONA -- Newmark Knight Frank (NKF) has announced the $38 million sale of Scottsdale Entrada, a 30-acre former auto mall at the northeast corner of 64th Street and McDowell Road. The site, located at 64th Street and McDowell Road in an opportunity zone, will be transformed into one of the largest mixed-use developments in Scottsdale. NKF Executive Managing Director Tom Adelson and Associate Erin McClure arranged the sale between the seller, Sunchase Holdings, and the buyer, Los Angeles-based Banyan Residential, which invested through a qualified opportunity zone fund.
"This phenomenal piece of property is the largest mixed-use redevelopment opportunity in the Phoenix market. The City of Scottsdale wanted a major mixed-use redevelopment on the site, to cap what was formerly the McDowell Motor Mile, now activated with the continued development of hotels, retail and multifamily," said Adelson. "We are excited to see the redevelopment come to fruition and further elevate McDowell Road."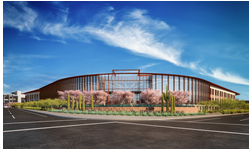 The redevelopment will be 100% speculative on the entire site, projecting to break ground in April of 2020 and deliver mid-2021. The mixed-use development will be the premier gateway into Scottsdale from the southwest. Scottsdale Entrada will comprise 735 multifamily units; 7,000-square-feet of retail; and a three-story, 245,000-square-foot, state-of-the-art office building with large efficient floor plates of ±80,000-square-feet, high ceilings, full height windows and indoor-outdoor space; at delivery. Office amenities will include an on-site fitness center, game lawns, dog park, pedestrian walkways with direct access to the Arizona Crosscut Canal and tunnel access to Papago Park, and a generous public park space designed to accommodate live concerts and other outdoor events for the community at large. The project will also offer expansive views of the Papago and Camelback Mountains and an exclusive tenant rooftop deck.
"What we are creating at Scottsdale Entrada is considerably different than any other project in greater Phoenix. The property - already surrounded by Camelback Mountain and Papago Buttes at Papago Park - will emphasize connectivity and activity, integrating recreation and open space into the everyday lives of residents and tenants," said Ben Brosseau, Founder of Banyan Residential.
Ideally located in the prestigious South Scottsdale submarket, Scottsdale Entrada is adjacent to Papago Golf Course, the Phoenix Zoo and Desert Botanical Garden; five minutes from Arizona State University and restaurants and entertainment in Old Town Scottdale; and eight minutes from Phoenix Sky Harbor International Airport, which was named the best airport in the United States, according to the Wall Street Journal's recent annual ranking of American airports.
NKF Executive Managing Director Mike Garlick and Associate Jimmy Hoselton will represent the project's office leasing. DPC Companies was awarded as the developer.