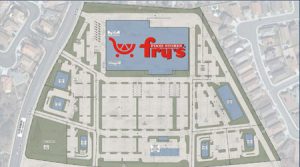 MARANA, ARIZONA, May 4, 2023 – Barclay Holdings CXXII, LLC, an affiliate of Barclay Group in Phoenix (Dennis Barr, Senior Vice President/ Development), acquired the Gladden Farms Marketplace out parcels for $4.9 million ($12 PSF) for 9.65 acres with entitlements and improvements at the northeast corner of Tangerine Road and Lon Adams in Marana. The seller, Weingarten / Kimco Realty Corporation of Fort Worth, TX, bought the land in 2006.
Barclay Group is an active developer, owner, and operator of shopping centers in 15 states. The company owns and operates the shopping centers of Rooney Ranch, at Oracle and 1st Ave. in Oro Valley, Old Spanish Trail Crossing at 22nd St and Harrison in Tucson, and multiple Fry's Foods Anchored Pads around Arizona.
The Gladden Farms retail center project with Fry's store began in 2007 and was approved in 2008, just as the Recession hit residential development and the grocery store was put on hold. A lot has changed since then, the seller, Weingarten, was acquired in 2021 by Kimco Realty. Gladden Farm has continued growing to 40,000 residents within a seven-mile trade area of the shopping center, with an average household income of over $100,000 annually.
The 21.79-acre retail center site will now become home to a 125,000-square-foot Fry's Food Store and fueling center, expected to be permit-ready soon. With all the utilities in place, new plans were resubmitted to Marana, and the Fry's store hopes to break ground as early as this Summer for a Q3 2024 grand opening.
When Fry's purchased its 11 acres in 2006, the plans called for a slightly smaller store footprint of 110,000 square feet, now, with the newer floor plan, an additional 1.7 acres were needed by Fry's from each side of the original parcel, and the new owner, Barclay Group, accommodated the larger footprint with a drive-thru pharmacy window on the side of the building.
The additional 1.7 acres were transferred from Barclay Group to Smith's Food & Drug Centers for $900,000 ($12 PSF) to accommodate Fry's new construction plans.
According to Barclay's site map, the future grocery store anchored shopping center is also platted for six additional out parcels, pads, and shops totaling 32,200 square feet at full build-out. Located in the heart of the rapidly growing Gladden Farms master-planned community, Barclay will develop the out parcels and is pre-leasing.
After years of waiting, we are pleased to see Gladden Farms residents finally getting a Fry's Food Store, fuel station, and other much-needed retail services.
For leasing information, Brett Sheets with Barclay can be reached at 602.224.4147.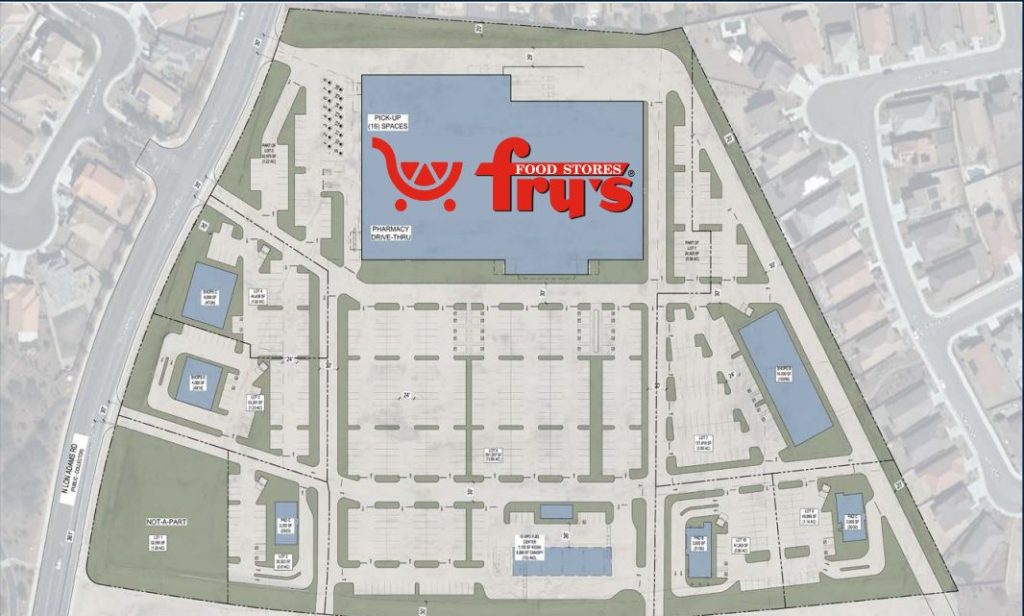 To learn more, see RED Comps #10598 and #10599.