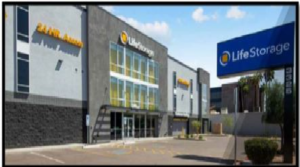 Phoenix, AZ – A joint venture between Barker Pacific Group (BPG) and Artemis Real Estate Partners (Artemis) has acquired its first self-storage property, Life Storage, in Phoenix, AZ. The newly built, climate-controlled, Class-A facility contains 94,450 sf and features 935 storage units. The project is located in Midtown Phoenix, two blocks west of Route-51 and 4 miles northeast of Downtown Phoenix. The Property has been open since May 2019 and is currently 70% occupied.
"We are excited to add a class-A self-storage property in Phoenix, AZ," said Jae Ho, Partner at BPG. "We were attracted to the property's location, high quality construction, tenant amenities, and, especially, the activity of move-ins during leaseup."
With this strategic acquisition, the joint venture establishes an initial presence in a rapidly developing area within Phoenix. The joint venture has three more selfstorage properties under contract in Phoenix, and the joint venture is diligently searching for additional acquisition opportunities to further expand its footprint in the region.
This is the 13th self-storage facility jointly acquired by BPG and Artemis.