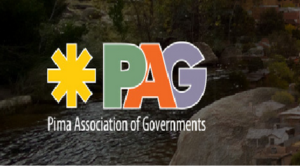 Pima Association of Governments (PAG) is updating its long-range regional transportation plan and is seeking initial public feedback during the first of two 30-day comment periods.
The Draft 2045 Regional Mobility and Accessibility Plan (RMAP) Update builds upon PAG's current 2045 RMAP and includes updated population and employment data, as well as updated revenue forecasts.
The current 2045 RMAP was adopted by PAG's Regional Council on May 26, 2016, and identifies projects, goals and performance measures for the transportation system of the Tucson metropolitan area.
PAG regularly updates its long-range Regional Mobility and Accessibility Plan in compliance with mandated federal rules and regulations. The updated plan will have the same 25-year planning horizon as the adopted 2045 RMAP.
The 30-day public comment period begins July 7 thru Aug 5, 2020. All written and emailed public comments on the proposed plan must be received by5 p.m. on August 5, 2020.
Comments may be submitted to info@PAGregion.com or mailed to: Pima Association of Governments, 1 E. Broadway Blvd., Suite 401, Tucson, AZ 85701 by the above stated deadline.