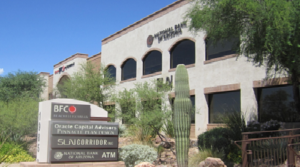 TUCSON, ARIZONA – HSL TW River Road LLC, a joint venture of two Tucson-based companies, HSL Properties (Omar Mireles, CEO) and Town West Realty (Jim Horvath, CEO) purchased the BeachFleischman building at 1985 East River Road in Tucson for $10.65 million ($252 PSF). The seller was Campbell Avenue Group LLC an investment group comprised of employees of BeachFleischman, PC  (David Cohen, President).
The 42,226-square-foot building was built in 2004 and was 100% occupied at time of sale.
The property is the BeachFleischman headquarters that occupies 29,000-square-feet and will continue to occupy it in a sales leaseback agreement with the buyer. Three other tenants include National Bank of Arizona, Sun Corridor, and Oracle Capital Advisors in the building.
Rick Kleiner, MBA, of Cushman & Wakefield | Picor brought the property to full occupancy with the National Bank of Arizona as tenant.
There were no brokers involved in the sale transaction. Cohen and Horvath discussed the sale informally for about a year before its closing on July 1, 2020.
"Some of the members of Campbell Avenue Group. LLC were getting ready to retire, so it seemed like a good time to divest of the asset," Cohen said. "BeachFleischman will continue to occupy about 60& of the building for our headquarters and entered into a new 10-year lease with the buyers; that cinched the deal for the investors."
Town West Realty will handle property management and leasing of the property.
This is not the first joint venture for HSL and Town West, affiliates of Tucson-based Town West Realty and HSL Properties bought the Oro Valley Marketplace and excess land from Phoenix-based Vestar in September 2019 for $45.15 million. See RED Comp #7162.
To learn more, see RED Comp #7909.