Berkadia Brokers $122 Million in Tucson Apartment Sales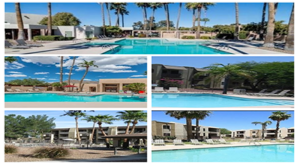 TUCSON, ARIZONA – Berkadia's Art and Clint Wadlund of Tucson represented Gleiberman Investments, Inc. of San Diego (Mark Gleiberman, president) in the sale of two Northwest Tucson apartment communities for $37.43 million and represented Holualoa Properties in an additional three communities totaling $64.5 million.
ComCapp Elevation, LLC a Texas REIT purchased the following Tucson Portfolio:
Stoneybrook Apartments at 4225 North First Ave. in Tucson, a 411-unit complex, sold for $27 million ($65,693 per unit);
La Jolla de Tucson at 444 West Orange Grove in Tucson, a 223-unit complex, sold for $15.9 million ($71,300 per unit); and
Quail Ridge Apartments at 4500 East Sunrise Dr., a 253-unit complex, sold for $21.6 million ($85,375 per unit).
HSL Properties of Tucson (Omar Mireles, president) purchased the following Tucson Portfolio:
Casa Lindas Apartments at 699 West Magee Road in Oro Valley, a 144-unit complex, sold for $17.65 million ($122,569 per unit); and
Springhill Apartments at 8030 E Lakeside Parkway in Tucson, a 224-unit complex, sold for $19.775 million ($88,281 per unit).
"We were pleased to be able to purchase the two northwest Tucson properties," Omar Mireles said. "We had looked at them when the MG Properties and Gleiberman Investments had purchased them in a portfolio along with three other properties that they are also selling."
All of the properties were at or around 95% occupancy at time of sale. All closings were completed the same day, on June 28th.
Art and Clint Wadlund with Berkadia in Tucson and Rick Holway and Mark Forrester of Berkadia in Phoenix brokered both portfolios for the sellers. The investors were self-represented.
For additional information, Wadlund should be reached at 520.299.7200.
To learn more, see RED Comps #5956, #5957, #5950, #5951 and #5952.